Big sky country: Texas secession to be voted on at state GOP convention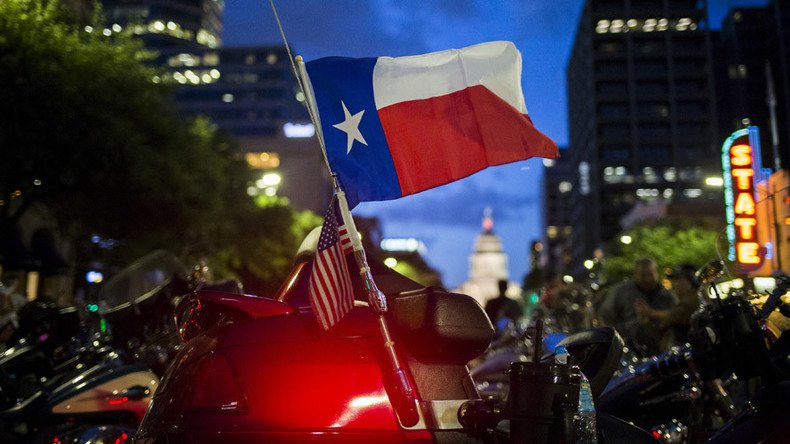 The Lone Star State could be on its way to becoming the Lone Star Nation. A vote on Texan independence is set to take place at the Texas Republican Party's convention after being approved by the Platform Committee of the state party.
The Texas Nationalist Movement, a group that advocates for the state's separation from the US, has made major headway, with a secession debate scheduled for the Texas Republican Convention this week. The movement claims that 22 out of the 270 county GOP conventions have passed independence resolutions, although Texas GOP chairman Tom Mechler told the Houston Chronicle that he "would be very surprised" if that number held up.
The Houston Chronicle reached out to GOP officials of the counties that the Texas Nationalist Movement (TNM) had said passed independence resolutions, and only ten confirmed. Mechler has made an effort to distance the Nationalist Movement from the Texas GOP, saying, "Republican is not even in their name."
Supporters of TNM feel a celebration is in order after two-thirds of the Texas Republican Platform Committee voted to vote on Texan independence.

"We have said this for years. The people of Texas want an open debate and a vote on the issue of independence. None more so than Texas Republicans," TNM President Daniel Miller said.
The reasons for Texan independence are similar to those usually cited in standard Republican rhetoric. According to their website, they promote "a secure border and a sane immigration policy" as well as "an end to the failed Federal policy of unrestricted spending and limitless debt."
However, TNM places much of this focus on Texas getting "a government that begins and ends in Texas."
The website claims that the need for a separate nation of Texas has a lot to do with government overreach, saying, "No matter what our priorities, challenges, dreams or decisions are here in Texas, while we are part of the union, everything is ultimately dictated from or allowed by the bureaucrats in DC. Independence means that Texans, and Texans alone decide our fate. Texans are tired of being governed by bureaucrats we didn't elect pushing policies that we don't want."
Texas originally won its independence from Mexico in 1836 and attempted to operate as a sovereign nation but joined the union after running out of money. Since then, Texas attempted to secede during the Civil War and the secession movement gained some traction in the 1990s, but it has mostly remained a moot point.
Now that at least 10 counties have expressed support for Texan independence, however, the discussion could be put to a vote on the floor of the state GOP convention in Dallas. The vote is not expected to pass, but it could mean that the Texas GOP will be unable to ignore the issue.
You can share this story on social media: