'Ban Islam from America': Mosque site vandalized in Washington state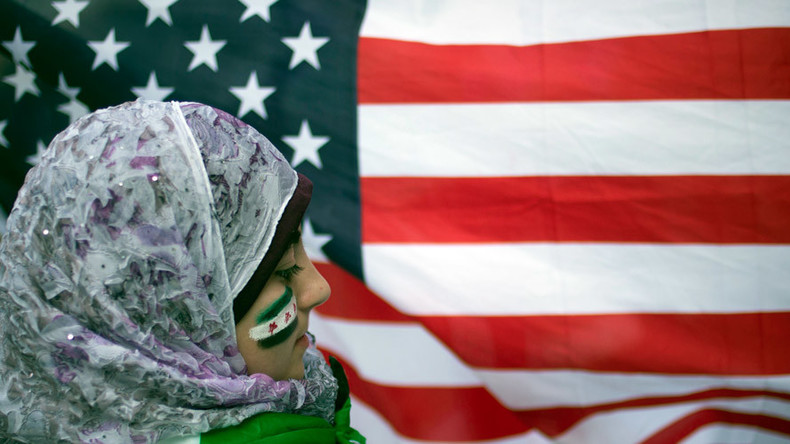 The Islamic Center site in Mukilteo, northwest Washington, has been vandalized with "Ban Islam from America" flyers left at the proposed house of worship's location. Both local police and the mayor's office are investigating the incident.
"That type of action is hateful, no matter what the words were. There's hate behind it," Mukilteo Mayor Jennifer Gregerson said, according to KOMO News. "That's the way that I feel about it."
Last week, the Mukilteo Police Department learned about the act of vandalism from an anonymous caller, who informed them about the flyers bearing "anti-Islamic" rhetoric left alongside an American flag at the intended site of the Islamic Center of Mukilteo. Titled "Ban Islam in America," the leaflets were attached to a sign that announced the construction of the mosque.
The mosque's sign was also hit by vandals.
"It's unacceptable here. We are good citizens. We've got to live here comfortably, you know?" said Riaz Khan, the mosque's president. "We are good neighbors. We are good people."
The police says that they are doing everything they can to investigate the matter, which could amount to malicious harassment and treated as a felony.
Plans for the mosque were first announced in 2013. According to papers submitted to the city, the Islamic Center would require 3,796-square-feet to accommodate a two-story building with space for a prayer area, a multi-purpose room, two small offices, a kitchen, bathrooms and two classrooms, according to Heraldnet.
However, even before its construction, the Center was targeted by anti-Muslim opponents. Last month, an anonymous postcard was mailed across the city, calling residents' attention to plans for the mosque. It later appeared that the letter had been delivered by the president of aerospace firm Electroimpact Inc., Peter Zieve, who admitted to sending the card, saying that he was terrified by "recent world events involving radical Islam."
Zieve personally apologized to the mosque's president in a letter he sent to the Mukilteo Beacon.
"I am writing today to offer you my personal apology ["Head of Electroimpact apologizes, clarifies postcard," April 20, front page]. I regret many of the things I have said and written. I regret sending the postcards and upsetting so many people in our community and beyond," he wrote.
The city residents have until May 20 to put forward concerns about the planned center. So far, Mukilteo officials have received about 15 comments, Heraldnet reported, citing Glen Pickus, a planning manager for the city.
Anti-Muslim fears have run high across the US recently, leading to protests in communities nationwide. Recently, people in several states including Massachusetts, Texas and Minnesota complained about Muslim cemeteries in their towns, with some managing to bring their construction to a halt.