RT to host presidential debate for Libertarian Party candidates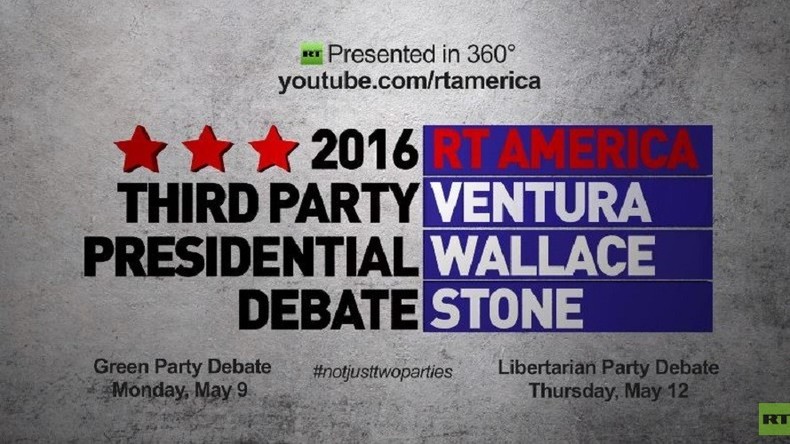 With Democrats and Republicans holding a duopoly on US politics, many Americans feel the 2016 presidential race requires choosing between the lesser of two evils. Not RT America, however – we're giving Libertarian Party candidates a debate of their own.
In what is shaping up to be a race between Republican Donald Trump and Democrat Hillary Clinton, almost half of Americans are planning to vote based on "negative partisanship" – their distaste for one candidate rather than their positive feelings for the other, according to a Reuters/Ipsos poll. This also partly accounts for the popularity of dark horse Democratic candidate Bernie Sanders, who appears to be faltering in his White House bid.
Read more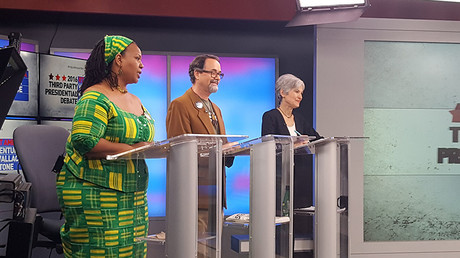 On Thursday, from 4 to 6 p.m. Eastern Time, RT America will be doing its part to highlight the fact that there are more options available to voters. Libertarian Party candidates Darryl W. Perry, Kevin McCormick and Marc Allan Feldman will seek to distinguish themselves from one another by answering questions covering foreign policy, domestic issues, and electoral reform.
Darryl W. Perry is an author, editor and radio host who is co-founder and co-chair of the New Hampshire Liberty Party. He was twice elected Chair of the Boston Tea Party, which was created by some of the former members of the Libertarian Party in 2006. Boston Tea Party was dissolved in 2012, shortly after Perry's resignation as party Chair. He hopes to "run the most libertarian presidential campaign in history."
Kevin McCormick is an IT security expert and longtime member of the Libertarian Party who feels "trapped by a two-party system." His platform rests on three non-negotiable principles: personal freedom, free speech and the right to privacy.
Marc Allan Feldman is a physician who practiced anesthesiology at Johns Hopkins for 11 years. He takes a hardline stance on campaign finance, explicitly refusing to court wealthy donors. He supports limiting the power government's eminent domain powers, and even wants to restrict the power of police to issue tickets by eyeballing the speed of drivers.
"One of the goals of my campaign has been to promote the ideas of liberty as boldly and as often as possible," Perry said in a statement. "I'd like to thank RT for putting together this debate which will give a platform for the ideas of liberty and self-ownership to be promoted to such a wide audience, and that will also show voters there are alternatives to the two major parties."
The Libertarian Party is the third-largest political party in the United States, behind only the Democratic and Republican parties. Its platform favors civil liberties, small government, free markets and a non-interventionist foreign policy.
The debate will be broadcast with cutting-edge 360-degree camera technology on RT America's YouTube channel and on cable.
RT hosted a similar debate for the Green Party presidential candidates on Monday. Though opposing the Libertarians on many issues, the Greens share the resentment for America's de facto two-party system.
"It is all but illegal to participate in US politics outside the twin titanic business parties. A majority of US citizens are disgusted with the status quo and want something new," Green Party candidate Kent Mesplay said prior to the debate. "By nurturing real discussion and debate, RT America reveals an insistent international movement of polite dissent: the Green Party. Such visibility emboldens would-be voters who want a viable 'third party' in the United States."