'She out!': High school staffer puts 15yo girl in chokehold, faces probe (VIDEO)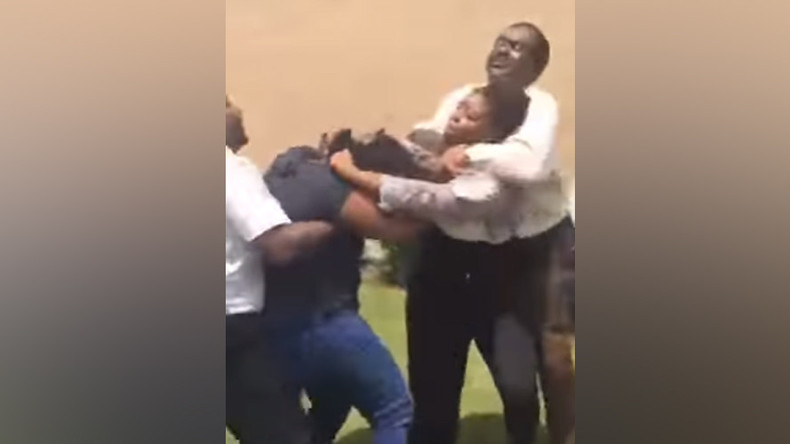 A South Carolina high school administrator has been placed under investigation after putting a teenage female student in a chokehold until she passed out. His actions were recorded by students, who shared the video online.
It appears Kingstree Senior High School Assistant Principal Mack Burgess and another man intervened in a fight between two teenage girls on Monday. In a move to restrain the two girls, Burgess, 69, grabbed one of them from behind and placed her in a chokehold. His grip was tight enough to render her unconscious.
The incident was caught in a video recorded by the school's students, who then shared it online.
As the 15-year-old falls to the ground, a voice in the background is heard yelling, "She out! She out!"
The girl's mother, Yalonda Nesmith, shared her frustration over how school authorities handled the situation with the media.
"She could have died from this," Nesmith told the Kingstree News newspaper.
Nesmith has been demanding that an investigation be launched against Burgess, who, as she told the Washington Post, went too far in his actions.
"This is no longer about the fight," she said. "It's about how he handled my daughter."
According to Nesmith's side of the story, she learned about the incident from a phone call she received on Monday afternoon. However, as she spoke to Burgess, he failed to mention his role in the situation and appeared to have denied that he used a chokehold when asked directly.
"It hurt to see my daughter go limp in the video," Nesmith told the Post, describing her feelings about the incident. "Her brain wasn't getting any blood, so her body did what it had to do – and she passed out."
It wasn't until Tuesday when Nesmith went to the police to report Burgess. Prior to that, she reportedly tried to speak to the assistant principal again, hoping that he would admit to his actions, but he didn't.
"I want to see him arrested," she said. "I want to see him serve time for what he's done. I want to see justice served."
Burgess and school administrators were notified that Nesmith was filing charges that very day.
Police are currently waiting for medical records from the hospital where Nesmith took her daughter after learning about the fight. The girl reportedly complained of pains when she moved her head.
Nevertheless, Judge William Driggers at the Williamsburg County Magistrates Office issued an arrest warrant for assault after Kingstree police described Burgess as a threat to public. The judge later replaced the warrant with a "courtesy summons," however.
According to the Post, Nesmith said her daughter has been suspended from school for fighting for five days.
"She's crying every day. She's hurt," she told the newspaper. "It hurts me because I'm a mother fighting for my child."