'Christian' Trump supporter refuses to tow car with Sanders bumper sticker & disabled sign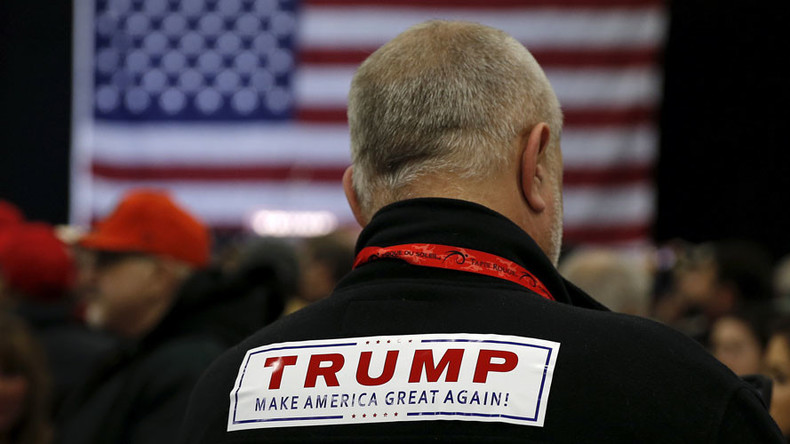 A Donald Trump-supporting tow truck driver refused to help a woman with disabilities stranded at the side of the road after spotting her Bernie Sanders bumper sticker.
Kenneth Shupe was called to tow Cassandra McWade's car after she was involved in a minor car crash outside Asheville, North Carolina Monday, the day before his candidate sealed the Republican nomination for president in the Indiana primary.
Shupe was all set to take her car, until he noticed that she was "feeling the Bern" with a Sanders sticker and sign.
Interviewed by the local TV stations, he says while under the influence of a 'higher power', he told McWade he wouldn't help her as she was "obviously a socialist" and should call the government for a tow, even though his livelihood is dependent on America's government-funded 'socialist' highway system.
"Something came over me, I think the Lord came to me, and he just said get in the truck and leave," Shupe explained to WLOS-TV, apparently forgetting what his savior said about those with disabilities in Luke 14:13-14.
"But when you give a reception, invite the poor, the crippled, the lame, the blind, and you will be blessed, since they do not have the means to repay you; for you will be repaid at the resurrection of the righteous."
"And when I got in my truck, you know, I was so proud, because I felt like I finally drew a line in the sand and stood up for what I believed," said the man who supported two other candidates before settling on Trump.
@sebroche Won't help someone stranded on the side of the road because hes Christian? The Good Samaritan is literally the most famous parable

— Leah Pipes (@leahmariepipes) May 5, 2016
Shupe added in his southern US accent that he's not interested in doing business with "these people", a phrase often used by racists to refer to African-Americans.

McWade has a wheelchair sign hanging from her rear view mirror and suffers from Crohn's disease, psoriatic arthritis, fibromyalgia, and chronic fatigue.
@Fusion This is the kind of people-supporting Trump. Just not what we need in America. United We Stand...Divided We Fall. Trump is divisive.

— Judy Kay (@Judy7kay) May 6, 2016
When Shupe told her he wasn't going to help, she was surprised.
"I was like, 'Wait, are you serious? You're kidding me.' I was in a little bit of a shock, and definitely a little scared," she told Fox Carolina.
Shupe claims he didn't know she was disabled, but then he mansplained, "there's a difference between being disabled and drawing disability."
Citing Trump's slogan, McWade's mother Kelle lamented, "this kind of divisive behavior and hatefulness is not going to make America great again."
McWade had to wait nearly four hours before she got assistance.
Trump exposes GOP for what it truly is he's not conservative, he's not Christian he's just angry, stupid and racist. https://t.co/KwXbmySeEu

— in no real order (@Boxingwithgod) May 4, 2016
Shupe, who describes himself as a conservative Christian, supported Ben Carson, Mike Huckabee, and now Trump, who the Pope said is not Christian.
The two truck driver also appears to share Trump's insensitive attitudes on people with disabilities.
While government-owned towing services are difficult to find in the US due to the privatization of roadside assistance services, the Department of Homeland Security has sent billions of dollars worth of 'socialist' equipment to fight terrorism, including drones, the Guardian reports, but nothing McWade could use to get home safely in Trump's America.
Homeland Security has armed local police forces with tanks, cannons automatic weapons and drones. At whom is all that fire power aimed?

— Social Humanist Org (@SocialHumanist) January 14, 2014