1 in 3 antibiotics over-prescribed by American doctors – study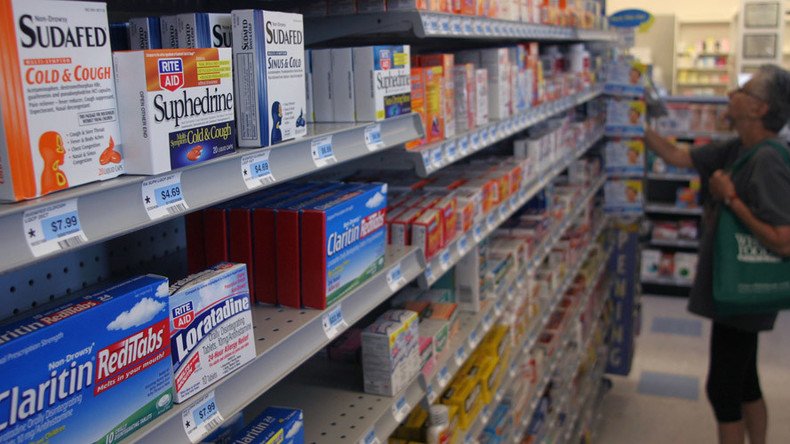 Nearly a third of antibiotics in the US are over-prescribed, according to a study by the Centers for Disease Control and Prevention. That amounts to about 47 million patients receiving the wrong treatment for colds, sore throats, bronchitis, and flu.
The study published on Tuesday analyzed the use of antibiotics in doctors' offices and emergency departments throughout the US in 2010 and 2011. The CDC found that 13 percent of all outpatient doctor visits, some 154 million a year, resulted in an antibiotic being prescribed, 47 million of which were unnecessary because they were prescribed for conditions caused by viruses, which do not respond to antibiotics.
"Antibiotics are lifesaving drugs, and if we continue down the road of inappropriate use we'll lose the most powerful tool we have to fight life-threatening infections," said CDC Director Tom Frieden in a statement released on Tuesday.
"Losing these antibiotics would undermine our ability to treat patients with deadly infections, cancer, provide organ transplants, and save victims of burns and trauma."
Researchers found that about 44 percent of outpatient antibiotic prescriptions were written for colds, bronchitis, asthma, allergies, influenza, and viral pneumonia.
"Sinusitis was the single diagnosis associated with the most antibiotic prescriptions per 1,000 population," researchers wrote in the report entitled Improve Antibiotic use to Combat Antibiotic Resistance, which was published on Tuesday in the Journal of the American Medical Association.
The American Academy of Allergy, Asthma and Immunology said "up to 70 percent of people with sinusitis recover without any prescribed medications," according to NBC News.
The CDC hopes the analysis will help remedy the over-prescription of antibiotics over the next five years. The study was conducted in conjunction with the Obama Administration's national plan for Combating Antibiotic-Resistant Bacteria that was launched in 2015 with the goal of reducing antibiotic use in the US by at least half by 2020. Congress appropriated $160 million in new funding for the CDC to fight antibiotic resistance.
The study confirms the frantic alarms health officials have been sounding for over a decade warning that the overuse of antibiotics, which are designed to treat bacterial infections, has contributed to the development of drug-resistant bacteria, or so-called super bugs. Drug-resistant bacteria can cause public health problems, such as untreatable flesh-eating bacteria or events like a recent outbreak of untreatable gonorrhea.
"We've all been hearing, 'This is a problem, this is problem,' and we all understood the general concept that there is a lot of antibiotic use," said Dr. David Hyun, a senior officer with Pew's antibiotic resistance project who collaborated on the study.
While antibiotics do nothing to help viral infections, patients often strongly believe they will and badger doctors into giving them a prescription.
Dr. Hyun told NBC News that "children younger than 2 receive the most amount of antibiotics."
The trouble with over-prescribing antibiotics is that the bacteria then evolve, eventually becoming so strong that they can't be fully wiped out by antibiotics. Those that do survive may not only re-infect patients, but also be passed on to others.
The CDC said that more than two million people are infected by drug-resistant germs each year, of whom 23,000 die from the super-bugs' onslaught.
"The rise of antibiotic resistance is a global crisis. It's one of the greatest threats to health today," WHO director-general Dr. Margaret Chan said last November.
You can share this story on social media: