Radical activist Daniel Berrigan, 1st priest on FBI most wanted list, dies at 94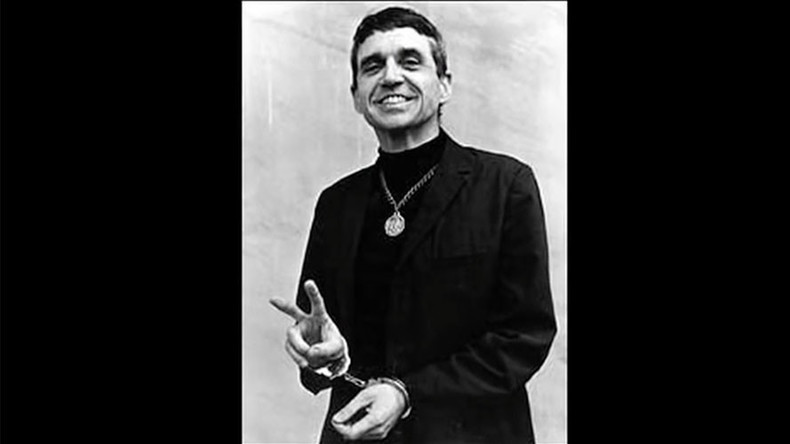 Daniel Berrigan, a legendary peace activist who was the first US priest ever arrested at a war protest and listed as the FBI's "most wanted", died a week before his 95th birthday.
Hailing from the same order as Pope Francis, the Jesuit author landed himself in both prison and on the cover of Time Magazine along with his brother Philip.
He also became part of the Occupy movement in the last years of his life and was arrested hundreds of times over four decades.
The Nobel Peace Prize nominee died of natural causes in the Bronx this past weekend.
The world would be a much better place if we had heeded the call for nonviolence from Fr. #Berrigan.

— Dr. Jill Stein (@DrJillStein) May 2, 2016
Berrigan dedicated his life to protesting what he called "American military imperialism," starting with the Vietnam War when he was arrested for the first time in October 1967 with students outside the Pentagon.
He went on to protest both Iraq invasions, conflicts in Afghanistan, Kosovo, and Central America, as well as the war on LGBT rights.
VIETNAM
"We spent a couple of weeks in jail. It was rather rough. And we did a fast."
Daniel Berrigan on Democracy Now in 2006
Born on the iron range of northern Minnesota, Berrigan went to Vietnam in 1968 to bring prisoners of war back to the US.
He was one of more than 500 writers who signed a letter published in the New York Post and New York Times Review refusing to pay the proposed 10 percent Vietnam War tax, alongside Noam Chomsky, Norman Mailer, Susan Sontag, and Howard Zinn.
Later that year, Berrigan, his brother Philip, and others burned 378 draft papers from the draft board in Catonsville, Maryland with homemade napalm during the Vietnam War - in protest at both the conscription of US men to fight the war and the devastating chemical weapon which burned thousands of Vietnamese people, villages, and trees.
They were known as the Catonsville Nine and inspired others to carry out similar radical acts of civil disobedience.
Berrigan lived in hiding from the FBI for four months in 1970 following his conviction for the napalm incident. During this time, he continued to write and give talks, greatly frustrating the authorities.
He wrote an open letter to the Weather Underground during his time in hiding, challenging the morality of their violent approach which claimed lives, and is credited by some for playing a part in their disbandment.
"The death of a single human is too heavy a price to pay for the vindication of any principle, however sacred," Berrigan wrote in the letter that first appeared in The Village Voice.
The great activist priest Daniel Berrigan died. His response when liberals said he had duty to surrender to the FBI. pic.twitter.com/WPZtiJAQrt

— Glenn Greenwald (@ggreenwald) May 1, 2016
When Berrigan was finally arrested, he served 18 months in prison.
"To remain prosperous, America defaces its countryside, fouls its air and water, makes its cities unlivable," he wrote from prison.
Berrigan was indicted in 1972 as part of the Harrisburg Seven, five of whom were priests and nuns, for threatening to kidnap Henry Kissinger and conspiring to bomb government property.
The government used illegal wire tapping during the trial.
NUCLEAR WAR
Berrigan also made an impact in the anti-nuclear movement. In 1980, the Plowshares Eight broke into General Electric's nuclear weapons re-entry division in Pennsylvania, poured blood on files, and damaged warheads, according to Democracy Now.
That inspired more than 75 disarmament actions in the years since as part of the Plowshares Movement which is ongoing today and led by religious activists.
One day all weapons of war will be destroyed "and they shall beat swords into plowshares,and their spears into pruninghooks:".
- #Isaiah 2:4

— ErrolSmythe777 (@AtThyWord777) August 11, 2015
Trumps policy on nuclear weapons, sheer idiocy. He wants to beat plowshares into swords.

— Selwyn McIntosh (@StarMac17) April 1, 2016
Berrigan and his co-defendants were charged with 10 crimes during the trial and he said they were simply taking "responsibility" for what needed be done since the weapons' "proper use is known to the judge, the prosecutor, and to you."
A movie based on the events was released in 1983, with actor Martin Sheen, another well-known anti-war and anti-nuke activist, playing the role of the judge.
ISRAEL
Speaking to the Association of Arab University Graduates in 1973, Berrigan drew comparisons with Israel's military aggression against the Palestinians and the US in Vietnam. He accused Israel of using biblical justification for "crimes against humanity" and creating the "myth of the barbarian Arab."
He described Israel as a "nightmare military-industrial complex" and "the creation of millionaires, generals, and entrepreneurs" during a speech on WNET-TV in 1974 and discussed the controversy surrounding his comments.
RIP Dan'l Berrigan who said Israel used "5th rate sociological jargon to prove racial superiority to ppl it crushed" https://t.co/0PDcrO4VLY

— Mondoweiss (@Mondoweiss) May 1, 2016
"One reason that speech, famous or infamous as it may be, aroused so much controversy and so much really deep opposition, was that I was trying to raise some questions that are forbidden in the American community," Berrigan said.
Despite outpourings of respect following the news of his death, a number of obituaries including one in the the New York Times, focused on accusations of "anti-Semitism" in the 1970s, Mondoweiss reports.
NYT continues slander of Daniel Berrigan over prophetic 1973 speech on the "war crimes" of Israeli "settler state" https://t.co/4oG8J5npZx

— Peter Feld (@peterfeld) May 2, 2016
9/11
Following 9/11, Berrigan attributed the attacks to America's role overseas.
"The ruin we have wantonly sown abroad has turned about and struck home. Thus sin, our sin, has shaken the pillars of empire. What has befallen, we have brought upon ourselves. The moral universe stands vindicated," he said in a 2002 speech to students at College of the Holy Cross.
OCCUPY
Berrigan remained active in the final years of his life and supported the Occupy Movement.
He commended the failed uprising against capitalism for its "overriding sense of responsibility for the universe" and later asked Trinity Church to drop charges against the protestors who occupied their parking lot after they were forcibly removed from Zuccati Park by the New York Police Department on the orders of billionaire mayor Michael Bloomberg, Chris Hedges recalled.
Berrigan was born in 1921 in Virginia, Minnesota, close to where Bob Dylan grew up, before moving to Syracuse, New York. He entered the Jesuits in 1939 and became a priest in 1952.
Following a retreat with Trappist monk and activist Thomas Merton in 1964, he made a new commitment to speak out against war.
The published author produced more than 50 works of essays, poetry, journals, and a play. His first poetry work was nominated for the National Book Awards and his play about the Catonsville Nine trial was made into a film directed by legendary actor Gregory Peck.