Indiana primary preview: Open to independents, Sanders and Cruz hope to score comebacks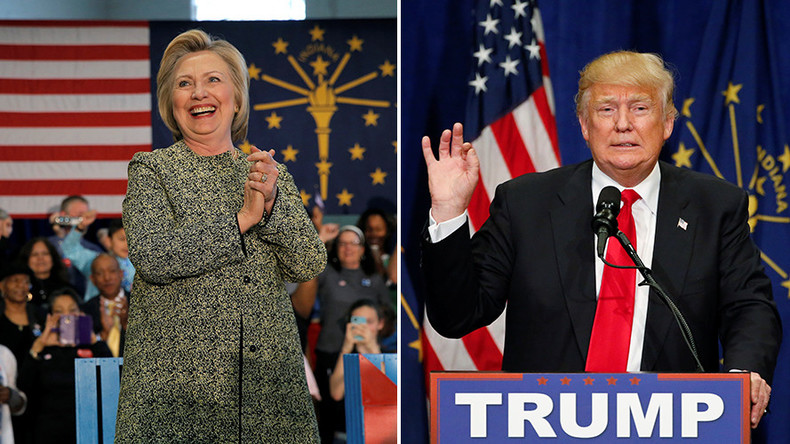 The Hoosier State's open primary could set or reset the 2016 election. With access to Democratic or Republican ballots for independents, Bernie Sanders may reach beyond his arm's length distance behind Hillary Clinton or Ted Cruz may upset Donald Trump.
Voting in Indiana begins at 6:00am and ends at 6:00pm Eastern time, but part of the state is on Central time, so some ballots will be counted after 7:00pm Eastern time.
The Real Clear Politics average shows that of five polls conducted from April 18 to 28, Clinton held about 50 percent support to Sanders's 43.2 percent, while on the Republican side, in six polls conducted from April 18 to 29, Trump held 42 percent support to Cruz's 32.7 percent and Kasich's 15.8 percent.
More recent polling shows a tighter race for each side, but the clear frontrunners are once again Clinton and Trump following their big wins along the northern East Coast last week.
Indiana offers 57 delegates for the Republicans and 83 pledged delegates, plus nine superdelegates, for the Democrats. On the GOP side, winning any of the nine congressional districts garners three delegates each, while 30 of the delegates go to the overall winner.
On the Democratic side, they are awarded more proportionally, with 56 up for grabs in the congressional districts and 27 going to the overall winner. The superdelegates go on to vote at the Philadelphia convention in July and are not bound by the primary voters.
Sanders stands to upset Clinton if the open primary works to his advantage the way it did in Michigan, New Hampshire and Oklahoma. Analysis by The Washington Post showed he won more votes from non-partisan independents than he did from Democrats, a dynamic that led to his victories over Clinton. Again, however, he needs to win a lot of delegates in order to make it to a brokered convention, as he has said he plans to do.
"I haven't seen a fall-off of the enthusiasm for either candidate," John Zody, Chair of the Indiana Democratic Primary, told RT's Ed Schultz on Monday.