US service member killed near Irbil, Iraq in 'enemy fire'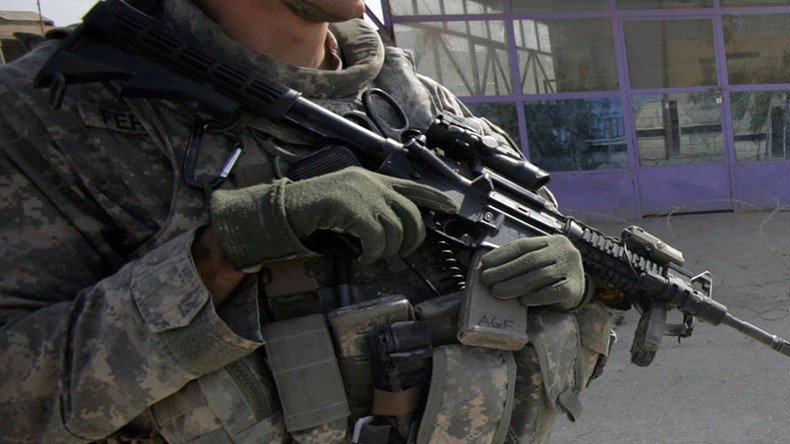 US Defense Secretary Ash Carter says an American service member has been killed in Iraq. A statement from the US-led forces in Iraq added the fatality was "a result of enemy fire."
"It is a combat death, of course. And a very sad loss," the senior official told reporters at a press conference in Germany.
According to Carter, the serviceman was killed "in the neighborhood" of Irbil, northern Iraq. Irbil is the capital of semi-autonomous Kurdistan region.
No further official details were given apart from the US-led Operation Inherent Resolve stating that a coalition "service member was killed in northern Iraq as a result of enemy fire."
The serviceman was hit by direct enemy fire about 32 kilometers from the city of Mosul, said Colonel Steve Warren, spokesman for Operation Inherent Resolve.
"The enemy penetrated Kurdish lines," Warren said. "They went about 5 kilometers past the forward line of troops with some truck bombs."
According to Reuters' sources, the killed serviceman was a Navy Seal
Earlier Tuesday US and coalition aircraft were said to be supporting forces battling Islamic State militants north of Mosul. Mosul is some 80 km (50 miles) west of Irbil.
BREAKING: #US troop killed about 5 kilo behind #Kurd#Peshmerga frontline with #ISIS after militants penetrated with convoy of truck bombs.

— Matt Bradley (@MattMcBradley) May 3, 2016
Operation Inherent Resolve was launched by Washington against Islamic State in 2014. This is the third American to be killed in direct combat since that time.
Carter made his statement in Stuttgart, Germany, as he had arrived there to preside over a ceremony that sees a new commander of US European Command, Army General Curtis Scaparrotti, installed. Scaparrotti will replace Air Force General Philip Breedlove.
You can share this story on social media: