Gotta shoot 'em, Trump says – as Pentagon downplays Russian warplane encounters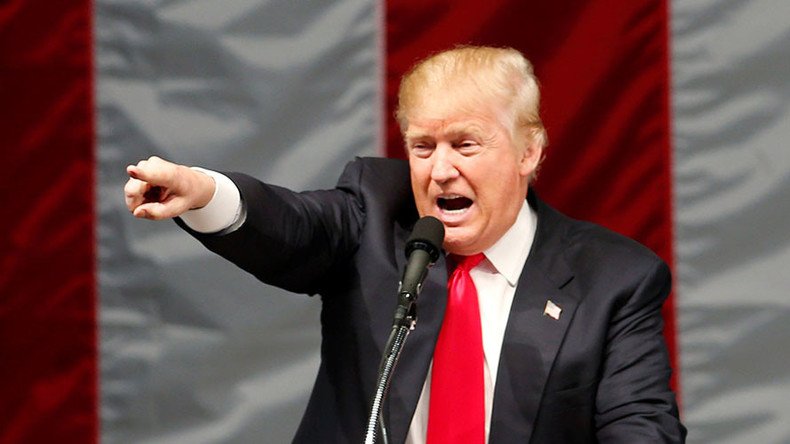 Republican presidential hopeful Donald Trump has said US may have to shoot down Russian warplanes approaching American military assets. Meanwhile, the Pentagon said such encounters were meant by Russia to send a signal rather than to provoke.
Over the past few months there were several incidents in which Russian warplanes approached American warships and spy planes in international space close to the Russian border, which the US described as unprofessional and dangerous. The latest happened Friday, when a Su-27 plane barrel-rolled next to a RC-135U reconnaissance plane over the Baltics.
Commenting on such incidents Monday, the frontrunner for the Republican presidential nomination, Donald Trump, blasted President Barack Obama for not handling the situation correctly.
"Normally, an Obama, let's say a president, because you want to make at least a call or two, but normally Obama would call up Putin and say, 'Listen, do us a favor, don't do that, get that maniac, just stop it.' But we don't have that kind of a president. He's gonna be out playing golf or something," Trump said.
"And if that doesn't work out, I don't know, you know, at a certain point, when that sucker comes by you, you gotta shoot," he added. "You gotta shoot. I mean, you gotta shoot. And it's a shame. It's a shame. It's a total lack of respect for our country and it's a total lack of respect for Obama. Which as you know, they don't respect."
The Russian Defense Ministry routinely dismisses American accusations of acting improperly in international space. Commenting on the Friday incident, it said the US should stop sending spy planes towards Russia's border with their transponders switched off. If they did, Russia would not have to send warplanes to intercept unidentified aircraft it sees on radar for visual contact, the ministry explained.
The chief of US naval operations said the Russians are not trying to provoke an incident by intercepting American planes and ships.
"I don't think the Russians are trying to provoke an incident. I think they're trying to send a signal," Adm. John M. Richardson told reporters at the Pentagon. "I think it's pretty clear that they are wanting to let us know that they see that we are up there in the Baltic."
The admiral added that such encounters increase the risk of a "tactical miscalculation" and that the US seeks to normalize the situation.
Earlier, US Secretary of State John Kerry warned that the US may open fire on Russian planes, if they are assessed to pose a military threat.
Over the past two years the US has increased troops deployment in Europe, claiming it to be a response to Russian aggression. Moscow sees the rising number of NATO military assets at its border as a threat and a violation of the spirit of Russia's agreement with the alliance, which states that no significant deployments would be made by NATO near Russia. No legal definition of what "significant" means was ever made, so NATO just brushes aside Russia's concerns.
Defense Secretary Ashton Carter confirmed Monday that the alliance is considering placing thousands of additional troops in Poland and the Baltic States in addition to the newly formed 5.000-strong Very High Readiness Joint Task Force.
According to the Wall Street Journal, the new troops would comprise four full battalions of roughly 1,000 troops each. Half of those would be provided by the US with the two others coming from Britain and Germany.
You can share this story on social media: