Happy Educators Appreciation Week: Teachers protest potential lost wages with 'sick-out'
Nearly all of Detroit's 97 public schools were closed Monday and Tuesday, keeping 45,000 students out of the classroom, because of a staged 'sick-out' of over 1,500 teachers protesting the chance that they may not be paid this summer.
Members of the Detroit Federation of Teachers did not spend their Monday or Tuesday mornings greeting students returning from the weekend at 94 district schools. Instead, they protested in front of the Fisher Building in the New Center neighborhood of Detroit over potentially not getting paid for their work this summer.
In March, the state approved $47.8 million in emergency funding to keep Detroit Public Schools afloat through June 30, but the question of what happens after that remains to be answered.
Michigan State Representative Sherry Gay-Dagnogo (D-Detroit) explained to RT that many teachers in the district opt into a pay system where their earnings are stretched out over the summer. However, if the district does not find the necessary $37 million, teachers will not receive payment for work already performed.
Additional legislation in the Michigan Senate seeks to bring an additional $715 million to the struggling school district. However, the DPS requires over $800 million to cover all necessary expenses and get the school set on the right path, according to Gay-Dagnogo.
Read more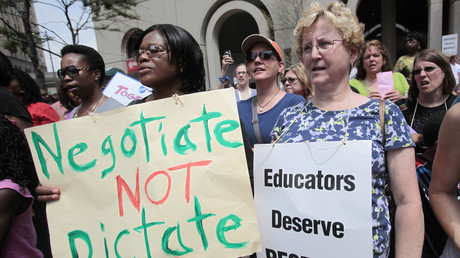 "We have already put the work in," Kimberly Morrison, 54, a reading and recovery specialist and 20-year district employee, told the Chicago Tribune. "If I don't get my pay, then somebody else – who I owe – won't get their pay."
Detroit teachers are also growing increasingly frustrated with the emergency manager system that has been in effect since 2009. Gay-Dagnogo claimed that the emergency managers have caused the over $500 million deficit.
DPS Emergency Manager Steven Rhodes addressed the sickout by saying, "I'd like to say I fully understand the frustration and pain that our teachers and other educators feel," acknowledging, "I haven't been subject to pay cuts for 10 years."
But the fifth emergency manager for DPS went on to say: "Today, 45,628 students are out of school and their families are being forced to find ways to care for these children so unexpectedly."
Ivy Bailey, the interim president of the Detroit Federation of Teachers, explained that few people know where the money for the DPS budget is going.
"Part of what we're going to ask for is a forensic audit – some type of audit so we can find out what's going on with this money and where the money's gone to," she told RT's Ed Schultz.
For Bailey, the issue goes beyond making sure that the budget pays for anything past June 30.
"We cannot work for free," she explained. "We've had pay cuts over the past 10 years, we've loaned our district $9,000, we're not only just worried about not being paid for the work we have already done, we're also worried about are we going to get our $9,000 back?"
Governor Rick Snyder (R-Michigan) said that he hopes to see actions "clearly before the middle of June" by lawmakers. This did not buy the Detroit Federation of Teachers' confidence. In a statement on their website, they announced plans to strike on Tuesday as well.
"We do not work for free and therefore we do not expect you to report to school tomorrow," the statement read.