'Invalid and unenforceable': Colorado court rules for state power over city fracking ban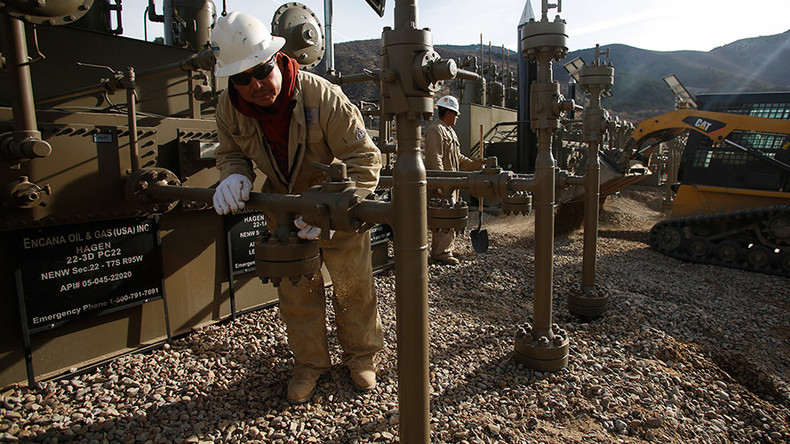 The Colorado Supreme Court ruled that state power over oil and gas industry regulation preempted local laws banning fracking, but industry opponents hope that the decision will bolster their ballot initiatives to restrict the hydraulic fracturing industry.
"[The] court holds that Longmont's fracking ban is preempted by state law and there, is invalid and unenforceable," said the opinion delivered by Colorado Supreme Court Justice Richard Gabriel on Monday, according to Colorado's Times-Call.
The court used the same argument to overturn the municipality of Fort Collins' five-year moratorium on fracking. Both Fort Collins and the city of Longmont had been sued by the Colorado Oil and Gas Association (COGA).
A ban on hydraulic fracturing, or fracking, was added to the city of Longmont's charter by voters in 2012, but it was overturned by a district court judge last year when the city was sued by COGA. The city council appealed the decision, but the state's court of appeals asked the state's supreme court to weigh in.
Justice Gabriel acknowledged that fracking, in which water, sand and chemicals are injected at high pressure to break open underground shale formations to release oil and gas, is a controversial topic.
"Even were we to accept the argument that fracking is not the only way to produce oil, gas or other hydrocarbons, it appears undisputed that fracking is now standard for virtually all oil and gas wells in Colorado," Gabriel's opinion said. "Longmont's ban, if left in place, could ultimately lead to a patchwork of regulations that would inhibit the efficient development of oil and gas development."
The court's decision will likely have a broad effect on other Colorado cities and counties with their bans and moratoria. Colorado is a leading oil and gas producer with more than 50,000 active oil and gas wells and more than 45,000 inactive wells where land must now be restored.
"The oil and gas industry is thrilled," Colorado Petroleum Council director Tracee Bentley said about the court's decision on Monday, according to the Denver Post.
"We feel as if the Colorado justices really understand this issue," Bentley said. "This very well could mean that anti-oil and gas forces bring forth ballot initiatives. Oil and gas is ready to stand up for Colorado consumers and for Colorado's place in the American energy renaissance."
Local governments were told by the court that they could still exercise their "zoning authority over land where oil and gas developments occurs."
For cities like Longmont, this could strengthen their oil and gas regulations that forbid drilling in residential zones.
Industry opponents also said they were buoyed by the court's decision, suggesting it will help their ballot initiative campaigns. They hope to have five measures on the November ballot to amend the state constitution to restrict the industry or allow local governments to do so.
"People are saying enough is enough and they don't want fracking in their backyards," Rocky Mountain Food and Water Watch director Lauren Petrie told the Denver Post. "This is going to give everybody more reasons to go out and get these initiatives passed, so that we can restore our right to protect our air, land and water, our families and our health, from industrial activity."
The industry said it would fight the ballot initiatives, the Associated Press reported.
Until Monday's court decision, the city of Boulder and Boulder County had moratoria in place. Broomfield had a five-year moratorium over fracking, and Lafayette had a fracking ban in place by voters.