Voter fraud goes digital as risk of hacks increases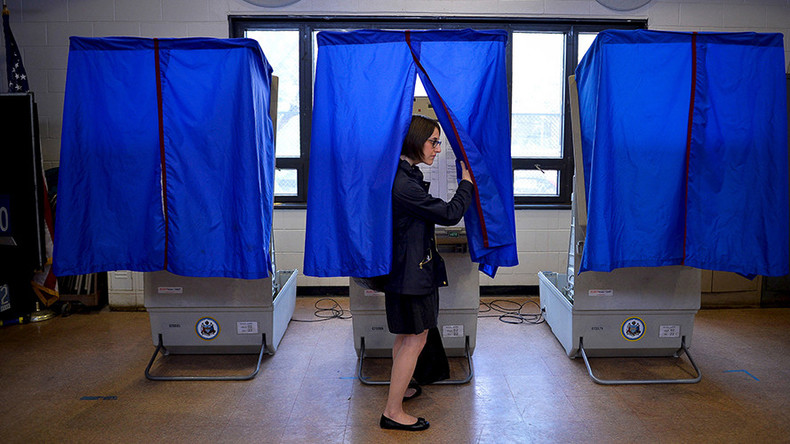 The US presidential primaries have been rife with voter fraud allegations, but these could be just the tip of the iceberg. Data breaches are exposing voter details in the US, Philippines, Turkey and Mexico.
December 2015 saw 191 million US voter registration records leaked online, including names, home addresses, political affiliations and dates of birth, making them all readily available to hackers. Now in an election season which is fraught with voter suppression and fraud allegations, the issue could mark the difference between digitizing the ballot or sticking with paper.
Pamela Smith, president of Verified Voting, an election watchdog group, told RT that the issue of voter information should be a high priority.
"What you don't want is someone with ill intent to have the capability of impersonating a voter or even doing something like that in an automated way, where maybe they can change registration records," she explained. "That's the big concern, is it going to hamper voters' ability to cast a ballot on Election Day?"
Smith's concern is not without cause. Hackers who bundle five to 10 million voters' information into one batch can make a profit of about $1,350 to $2,250 for each bundle on the dark web, The Hill reported. The low cost of voter information stems from the ease with which hackers can get data.
The Help America Vote Act of 2002 was passed to improve voters' ability to vote as well as computerize voters' registration. However, the security provided on a state-by-state basis was not robust enough to properly protect data, and local electoral authorities did not have the technical knowledge to recognize this as a problem. In addition, it was reported that several researchers found the third-party vendors to meet a high enough standard to guarantee proper protection.
A part of the issue is that US officials are not always required to classify voting records as sensitive, classified data. In fact, voter registration records are public records in states like Florida, Colorado and California. However, many of the states that keep them as public records do not release voters' dates of birth.
The information that hackers can easily gain about voters allows an easier opportunity at stealing someone's identity. Smith explained the crux of the issue to The Hill, saying, "If you can't keep the voter registration records safe, what makes you think you can keep the votes safe?"
Joseph Kiniry, CEO of Free & Fair, told The Hill, "In the USA, the concern I hold is if our registration systems are easily manipulated, we're not going to see breaches, were going to see voter ID manipulation remotely," meaning hackers could be "removing people who should be there."
However, the data breach problem could have a simple solution.
"The important thing to know is that the most widely used voting system in the country is a paper ballot marked by the voter," Smith told RT. "It can be recounted manually, it can be audited manually if need be."
"Paper might be an old technology, but it's one that works," Smith added.