Baltimore TV station evacuated over costumed man 'with bomb'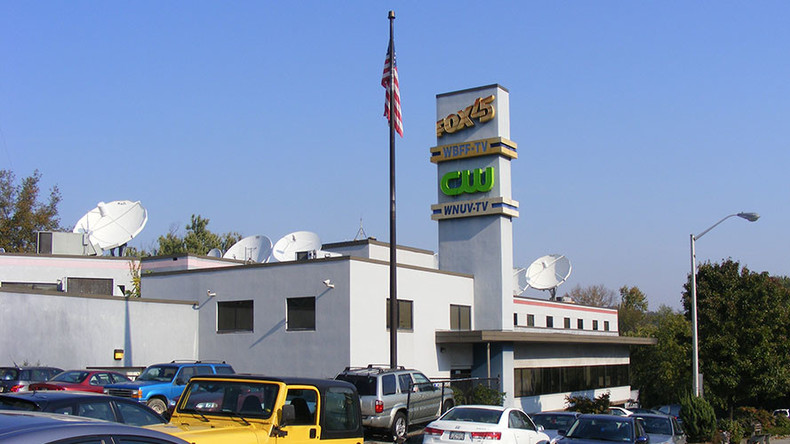 A costumed man claiming to have documents related to "Panama papers" on a flash drive prompted an evacuation of the WBFF TV station in Baltimore, Maryland. A vehicle was set on fire in the parking lot outside the station, a local Fox affiliate.
Firefighters have put out the fire, while a large police presence was on the scene, investigating reports of a man wearing a "bulky suit of some kind" in the building lobby.
WBFF reporter Shelley Orman said there was a "man inside the lobby saying he has a bomb strapped to him."
Around 3 p.m. local time, Orman reported that she heard several loud shots, and the police radio saying the suspect will need medical attention.
Baltimore police spokesman TJ Smith told reporters the suspect was a "white male in his 20s," who had "some type of device in his hand."
Smith said the suspect had been shot by a counter-sniper, a long rifle, and was still alive "at this point" but was not complying with police demands issued though a bomb-squad robot. The police have not identified the man yet.
The vest worn by the suspect was packed with candy bars to give the appearance of a bomb, Jayne Miller of WBAL-TV reported.
"Someone came into the front of the building and they apparently said that they had some information they wanted to get on the air," the station's News Director Mike Tomko told reporters. "He talked to me and was wearing what appears to be a full body white panda suit, surgical mask and sunglasses. He had a flash drive, said he had information he wanted to get on the air."
The man reportedly said his information was linked to the "Panama Papers," the leaked records from the Panamanian firm Mossack Fonseca published earlier this month by a German newspaper.
The man's outfit has been described as a panda hoodie, though CBS affiliate WJZ-TV also said it was a "hedgehog onesie."
You can share this story on social media: