Popular video game Minecraft goes VR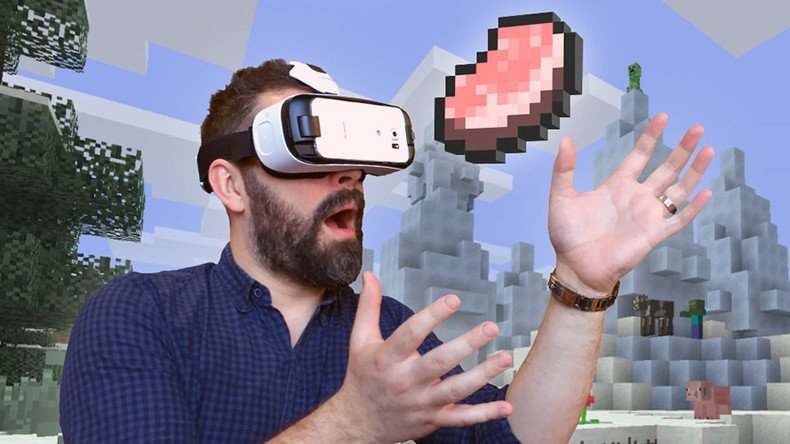 Minecraft, the blocky 3D construction game where players can generate interactive worlds, just immersed itself in virtual reality. The Swedish company Mojang that manufactures the game calls it a "marvel of modern science."
"Get your goggles ready!" Mojang declared on Wednesday as it launched its virtual reality edition of Minecraft that can be played on Gear VR-compatible Samsung phones.
"With a VR headset on, coming face-to-face with monstrous mobs takes on new meaning; creeping into dark caves inspires even greater trepidation thanks to 3D audio; and the light of a gorgeous sunrise seems to envelope you more completely," added Mojang.
The Gear VR version supports cross-platform play with both the non-VR mobile game as well as the Windows 10 release.
"It works by slotting your Samsung phone into the Gear VR and displaying one whole Minecraft world to each of your eyes!" said the company in a statement.
The video game Minecraft enables players to build constructions out of textured cubes in a 3D generated world. Other activities in the games include exploration, resource gathering, crafting and combat.
The virtual reality edition can be supported by Galaxy S6/S6 Edge, Galaxy S7/S7 Edge and Note 5, and the screen resolution "is pretty fabulous," according to the company.
"[It's always amazing to plug yourself into the world of Minecraft without any cables tethering you to a PC," said Mojang. "Just make sure you don't tread on the cat!"
The company recommends reading up on the safety information and suggests regular breaks as "longer sessions can make some players feel a bit icky or strain tired eyes."
Minecraft was created in 2011 by Swedish programmer Markus "Notch" Persson, and later developed and published by Mojang. Microsoft purchased Mojang for $2.4 billion in 2014.
You can share this story on social media: