'Environmental breakdown': Florida Bay hit with huge seagrass die-off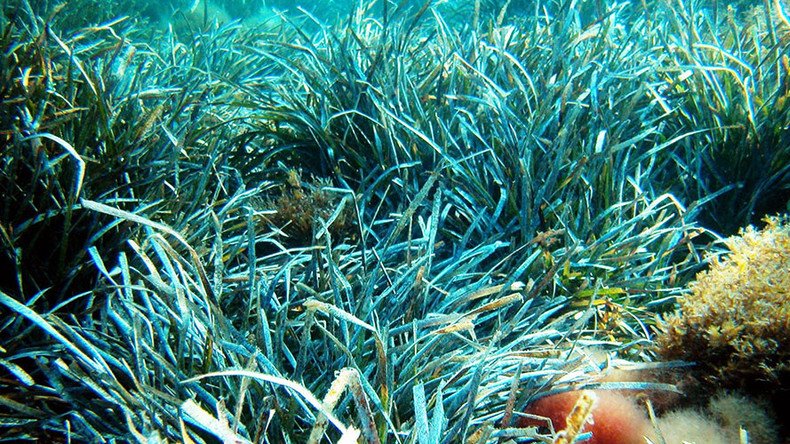 The Secretary of the Interior and scientists are drawing attention to a massive die off in seagrass in the Florida Bay. The marine plant deaths threaten not only the submerged ecosystem, but the local sport fishing economy worth $1.2 billion a year.
The Florida Bay, which runs along the Keys, is famous for its pristine turquoise water. Over 40,000 acres of the Bay, however, is now cloudy with floating dead grasses.
"[Being] out of balance at a time of climate change is really going to have a huge impact on South Florida, if we don't do something about it," Interior Department Secretary Sally Jewell, who surveyed the dead grass last week in a visit to the Everglades, said, according to The Washington Post. "This is what we get when we don't take care of Florida Bay."
Seagrasses are "grass-like flowering plants" submerged in marine and estuarine waters, according to the National Park Service Everglades website. They occupy about 2.2 million acres in the state and perform a number of life sustaining functions. They trap fine sediment and particles in their leaves to help maintain water clarity. The plants stabilize the Bay's bottom with their roots and rhizomes as well as provide shelter for fish, crustaceans and shellfish. The grasses are also an important food source for marine animals and water birds.
There are competing theories as to what is causing the die-off. Florida did experience a drought 2014 to 2015, but Brian La Pointe, a researcher with Florida Atlantic University, argues it is the nutrient runoff from lawns and agriculture choking the water with nitrogen, which causes algae to overbloom.
Other experts argue it is the construction of homes, roads and cities as people move to the area, stifling the flow of fresh water from mainland Florida. Six million people now live in South Florida and rely on the Biscayne aquifer for drinking water.
Waterflows from Shark River Slough in mainland Florida to the Everglades and into Florida Bay have dropped to just a quarter of previous annual flows, causing the Bay to become twice as salty as normal, according to The Washington Post. Salty conditions result in less oxygen for the seagrass and create intolerable conditions for marine organisms such as sea bass, snappers, pink shrimp, spiny lobsters and spotted seatrout, which attract sport fishing to the tune of $1.2 billion a year for the local economy.
During her visit, Secretary Jewell announced a $144 million "bridging" project to elevate Highway 41, which connects Miami to Tampa and runs through the Everglades. Constructed almost a hundred years ago, the highway interrupts water flowing south into the Everglades. Lifting the bridge, they hope, will restore freshwater flow levels, but the project is not scheduled to be completed until 2020.
James Fourqurean, a marine scientist who studies seagrass at Florida International University, said the die-off, which began mid-2015, has "started faster as far as we can tell this year."
"In the 80s, it continued to get worse for three years," Fourqurean told The Washington Post.
Fourqurean is referring to 1987 when the die-off was so extreme it became a topic of national news headlines. Florida Bay became a river of dead grass. The casualty prompted Congress to approve federal funding for the Comprehensive Everglades Restoration Plan. But 15 years later, the area is still not getting enough fresh water flowing into the Bay.
Fourqurean and Everglades experts think that what they are experiencing is a "serious environmental breakdown."
Much attention has been paid to the loss of coral reefs, but seagrass ecosystems are equally in trouble. In a study in 2009, scientists found the grasses globally had declined by 29 percent since the late 19th century.
You can share this story on social media: