Islamophobic backlash over Muslim burials across the US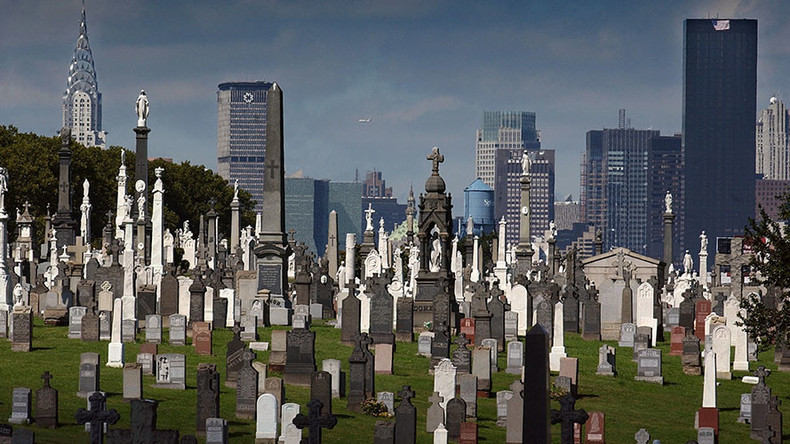 Residents in Dudley, Massachusetts have complained about the possibility of a Muslim graveyard being built on empty farm land. The residents of the small town are the latest in a list of towns expressing anti-Muslim concerns.
The land for the cemetery was bought by the Islamic Society of Greater Worcester (ISGW), a local Islamic center, because the nearest Muslim cemetery is presently located 90 miles away. Some Dudley residents claimed that their concerns were based on water contamination, AP reported, due to the fact that Muslims do not traditionally embalm their dead or use coffins. These concerns are somewhat contradicted bu the fact that embalming has been linked to toxicity in the water and ground. The commonly-used formaldehyde, which has recently been found to cause cancer, can take up to 10 years to dissipate, gradually contaminating its surroundings.
Other concerns expressed included a fear of "crazy music" and an increase in traffic on a small road.
Residents previously expressed their reasons for not wanting the cemetery. "Why not go bury your dead at a Christian cemetery," a confused Jarrod Manzi said during a February town meeting. "Why do you need your own cemetery if you're willing to violate jihadi law?"
During a meeting in Dudley earlier this month, a Muslim resident said "I deserve to be buried here. I deserve to be die in the town where I work hard. I don't want my family to (have to) go far away."
ISGW has said it will alter its plan to use less of the land, and even offered to give some of the land back to the town. The zoning board has until July to make a decision, CBS reports.
Dudley joins Farmersville, Texas, Walpole, Massachusetts, Carlisle, Pennsylvania, and Farmington, Minnesota in complaining about Muslim cemeteries in their towns, with some managing to stop the process, according to AP.
Residents of Farmersville complained at a town meeting last August. "People don't trust Muslims. Their goal is to populate the United States and take it over," said Barbara Ashcraft, a local resident, said.
"Everywhere y'all have been, y'all have caused some kinda controversy in schools, and the government led y'all have y'alls way, we'll that ain't goin' happen in Farmersville," said another Farmersville resident at the meeting in August 2015.
Pastor David Meeks told Fox News: "You just can't trust them. I don't believe they're going to tell the truth about this issue. Eventually there'll be a mosque, there'll be a training center there."
One resident claimed she was concerned the cemetery would become an eyesore, despite the fact that Islam says graves should not be adorned with monuments, like Christians do.
Walpole, Massachusetts
A proposed cemetery proposed which would occupy three acres in Walpole had residents up in arms, citing concerns about diseases spreading into the water. "How could we sleep at night wondering if the water's going to be contaminated in six months, six years?" one resident told WCVB. The town's Jewish cemetery doesn't appear to cause the same concern, despite the Jewish practice of not embalming the dead.
Carlisle, Pennsylvania
In Pennsylvania, the West Pennsboro Township Board refused to grant permission for a Muslim cemetery last year, citing concerns about water contamination and declining property values. One resident said it was a slap in the face to veterans and another called for Bosnian Muslims to used "typical burial customs," The Sentinel reported. Fox reported that the ruling had been overturned by a judge.
Farmington, Minnesota
In January, a judge overturned a denial of a permit for a cemetery near Farmington Minnesota. Judge David Knutson said there was a "lack of any justification based on the health, safety and general welfare of the local residents," according to AP.
The judge ruled that the Castle Rock Township must grant a permit to the Al Maghfirah Cemetery Association.
You can share this story on social media: