Undeserved fame: New browser plugin erases killers' names & photos from news to stop copycats
Published time: 27 Apr, 2016 23:34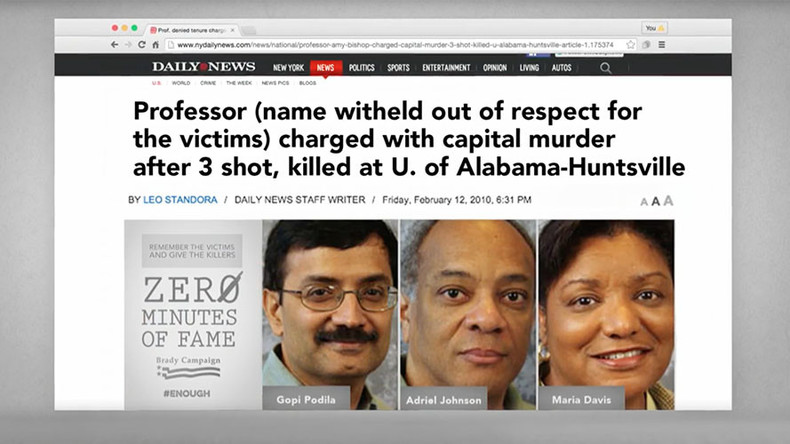 The Brady Campaign, which aims to prevent gun violence, has released an extension for the browser Chrome, that withholds the names of mass killers and swaps their pictures with those they have murdered.
"You can wipe away the killer's name and image from your screen, and replace it with something that truly deserves our attention – the victims," says the description of the just-launched tool.
The Brady Campaign, named after Ronald Reagan's aide who was disabled during the 1981 assassination attempt, has argued that media fascination with gruesome and audacious killers encourages others to also commit high-profile crimes.
"30% of mass killings, and 22% of school shootings, are inspired by previous gun related events. These events are always covered by the media, who plasters the killer's name, image and motives all over their broadcast channels," said its statement. "So, if the media continues to give these killers their 15 minutes of fame, then it's time to take matters into our own hands."
The activist group Gun Violence Archive has documented 88 confirmed mass shootings this year alone in the US, among a total of over 16,000 gun-related incidents, resulting in the deaths of over 4,100 people.
Over the past week alone, a gunman in Appling in Georgia shot five people from his wife's family, before killing himself, reportedly after discovering she planned to divorce him. In Piketon in Ohio, eight people were subjected to "execution-style" murders, with police attempting to find out if the spree was motivated by a criminal turf war, or a more showy reason.
The Brady Campaign, along with a similar group, called No Notoriety, formed after the 2012 Aurora cinema shootings, say that they are having some influence in toning down the alluring portraits of mass murderers, with fewer mentions of their names and displays of photos.
But some journalists have spoken out against the campaigns, saying they are in conflict with their professional duties, or are likely to be ineffective due the wide range of media sources and a persistent interest in murderers from the audiences themselves.