Gangs of the Bronx: Over 120 charged in the largest bust by NYPD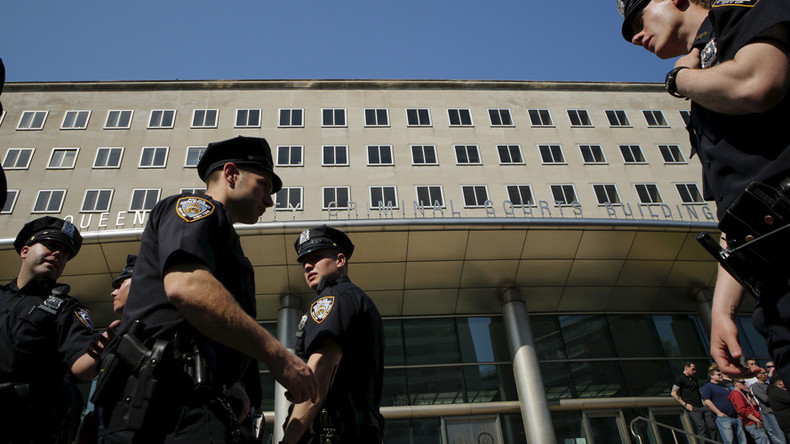 More than a hundred people linked to gangs and multiple murders have been charged with crimes in the Bronx, New York by law enforcement, marking what is being called the biggest bust in the city's history. Many of them were arrested Wednesday morning.
About 120 gang members have been charged with crimes, according to US Attorney for the Southern District of New York Preet Bharara. Currently, about 100 people are in custody, WABC reported.
"My message to gang members is: Unless you want jail or death, don't do it," Bharara said at a press conference on Wednesday.
The alleged gang members and gang associates were arrested during a series of early morning raids on Wednesday that targeted five different housing complexes. WABC reported that "heavily armed" officers raided the buildings, and revealed that armored vehicles were also deployed.
Although the operation was led by the New York Police Department, federal law enforcement officials were involved as well, including more than 300 Homeland Security Investigation members, the New York Daily News stated. Officials from the Drug Enforcement Agency, the US Marshals, and the Bureau of Alcohol, Tobacco, Firearms and Explosives also took part.
According to court documents, the suspects were involved in narcotics trafficking, robbery, attempted murder and murder, The Wall Street Journal reported. More than 60 are expected to face racketeering charges under federal law.
About 63 of the suspects belonged to a gang called "Big Money Bosses," a smaller faction of a group called "Young Bosses" that is active all over New York. Another 57 suspects were believed to be part of a group titled "2Fly YGz," also a smaller faction of a group called "Young Gunnaz." This group operates across the US, but has engaged in conflict over turf in the Bronx, the Daily News reported.
The conflict between the two groups is suspected in the deaths of at least five people, both young and old. Jeffrey Delmore, 15, was stabbed to death in 2010, while 92-year-old Sadie Mitchell was killed in her home by a stray bullet in 2009. Other deceased victims include Keshon Potterfield, 18; Alexander Walters, 17; and Donville Simpson, 17.
The two gangs have "allegedly wreaked havoc on the streets of the Northern Bronx for years, by committing countless acts of violence against rival gang members and innocents alike," Bharara said Wednesday, as quoted by WSJ.
Twenty-five of the people indicted on Wednesday were already serving time in jail, while 18 were still on the loose.