'Like wild animals': Racist texts from SF cops have over 200 cases under review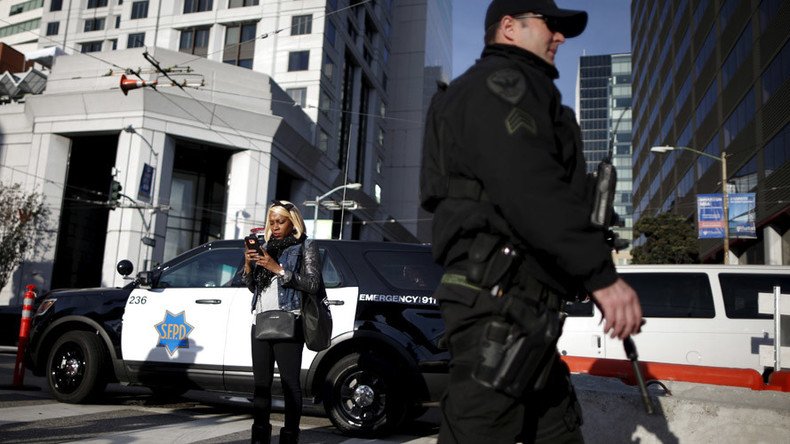 More than 200 criminal cases are being reviewed by authorities in San Francisco as a result of racist text messages sent by police officers, some of which referred to black people as "wild animals" and called Indian people "disgusting."
On Tuesday, San Francisco Public Defender Jeff Adachi released a set of texts that were originally sent by Officer Jason Lai, who is one of four officers currently being investigated for sending the offensive messages, according to SF Gate. The messages date back to October 2014 and make derogatory comments about African-Americans, Hispanics, Indians, and homosexuals.
"I hate that beaner," read one message, " but I think the n*g is worse." In multiple texts, Lai refers to African-Americans as "ni***rs" and "barbarians," while Hispanics are often referred to as "beaners."
"They're like a pack if (sic) wild animals on the loose," Lai wrote in another message also referencing black people.
"Burn down walgreens and kill the bums," a separate message reads.
"It is chilling how casually former officer Lai dehumanizes the citizens he was sworn to serve," Adachi said at a press conference, as quoted by NBC Bay Area. "He wished violence upon the very people he was being paid to protect and none of his colleagues turned him in."
In one message, Lai states that "Indian people are disgusting."
""Bunch of hock gwais shooting each other," he stated in another text, using a Cantonese slang term for blacks. "Too bad none of them died. One less to worry about."
According to Adachi, 207 cases have already been tagged for review, including three involving murder. If investigators find that any cases were affected by an officer's bias, it could result in dismissals and even tossed convictions.
"These texts are made over a period of time by an officer who is obviously using his judgment and power," Adachi said at a press conference, as quoted by SF Gate. "This is an officer who is making arrests, who is stopping people, who is deciding who to bring in and who to detain."
So far, messages from Lai are the only ones to be released in this latest investigation, which comes about a year after San Francisco police were first investigated for sending racist texts. In that case, officers were found to have routinely used derogatory terms for blacks and homosexuals between 2011 and 2012, but they were ultimately spared from discipline because the department waited too long to punish them.
The probe into Lai and others, meanwhile, began after detectives investigated the officer over an alleged sexual assault that was reported in August. During the course of this process, at least three more officers were found to have sent messages "containing reprehensible racial and homophobic remarks."
At a press conference, San Francisco Police Chief Greg Suhr said messages from the other officers, though unreleased as of now, were "no less reprehensible," according to CNN. All department officers will undergo "bias training" and those being investigated were suspended in October.
Three of those officers have since resigned from the force. The fourth will appear in front of the police commission for a hearing.
"The message is clear to both the officers in the department and the public: We will not have this in the San Francisco Police Department," Suhr said. "The culture of this police department is, 'You demonstrate yourself to be a racist and a homophobe, and you're not going to be a police officer in San Francisco.'"
Even as this probe unfolds, the SF police are also being investigated by the US Justice Department over their training and use-of-force policies. Critics have argued that police too often resort to excessive force and disproportionally target minorities.
You can share this story on social media: