Number of lead-tainted schools grows in Washington state as uncovered test results go public
Published time: 27 Apr, 2016 04:07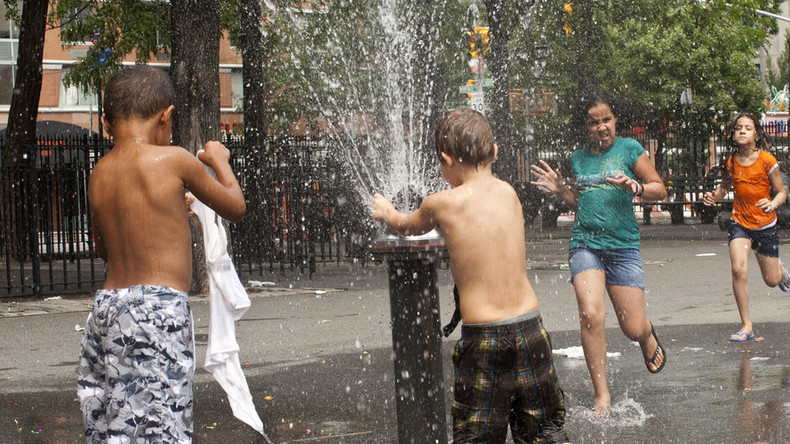 More Washington schools are being affected by excessively high lead levels in the water as Tacoma officials are now looking at a total of six elementary schools where children were exposed to scores of contaminated sources.
Tacoma Public Schools has been disclosing results of previously unseen May 2015 water tests, uncovered last week, which reveal tainted water supplies across the city area. This caused the district to review its water testing records.
According to its Tuesday update, over 300 water sources were tested at four of its schools last Spring. It appeared that Madison Head Start preschool program along with DeLong Elementary School, Whittier Elementary School and Manitou Park Elementary School had "isolated locations" that tested higher than the acceptable level of lead.
DeLong tops the list with seven contaminated water sources, compared to three at Madison and Whittier. Manitou Park had four tainted water locations.
"At this time, it does not appear that any steps were taken to correct the problems at those locations," Tacoma Public Schools said in the update posted on its Facebook page. "The vast majority of water at those locations showed no problems," it added.
The Tuesday update came on the heels of news the day before, when Tacoma Public Schools announced that the same May 2015 testing showed extremely high lead levels at two elementary schools, Mann and Reed.
At Reed, where 59 locations were tested, 39 water sources had lead levels above the acceptable 20 parts per billion, with levels ranging from 5 ppb to 2330 ppb. At Mann, there were 69 tested locations, 23 of which tested with levels ranged from with 0 to 784 ppb. Following the newly found 2015 tests, Tacoma Public Schools has ordered more tests at both schools.
"A water sampling contractor will take new water samples from dozens of locations at both Mann and Reed elementary schools Tuesday morning before school," Tacoma Public Schools said in an earlier post on Facebook.
Technicians from Orion Environmental Services of Federal Way began testing the taps at Mann Elementary School at 6:00am Tuesday and then continued at Reed Elementary, as scheduled, The News Tribune reported.
In a reply to one of the angry parents of one the schools students, Tacoma Public Schools said, "We're hoping to have the results from samples collected before school this morning at Reed and Mann on Wednesday."
The school regulator plans to test water quality at every school in the district, a process that, it said, may take several weeks to complete.
As parents received notifications about the problem, they took on Facebook to express their outrage, blaming "district incompetence."
"Sounds like a class action lawsuit to me," one of the parents wrote. "Shame on you tacoma public schools !!!!" commented another.
"Sounds like Tacoma has known about a lead issue for a while now. I smell a class action lawsuit," another one said.
Tacoma Public Schools does not plan to test exposed children, recommending that parents, if concerned, should "see your primary care provider."
The answer sparked further outrage, with parents calling it "unacceptable."
"The information sent to Whittier parents was that there were three locations that tested higher. The district needs to pay for testing. It was their neglect that left our kids exposed for a year," a mother posted in the comments section.
Tacoma has joined a growing list of institutions, dealing with lead problems across the US with more schools coming forward about contaminated water sources.
This week in Massachusetts, several Boston Public Schools showed lead contamination affecting at least five water fountains, all of which were shut down Monday. Four were found polluted at Thomas J. Kenny Elementary School in Dorchester and one particularly dangerous fountain was found at Rafael Hernández School in Roxbury.
In Illinois, Detroit Public Schools officials revealed that elevated lead or copper levels were found in 19 schools amid ongoing testing.
According to a recent AP study, 278 schools across the US have violated the safety levels for lead created by the Environmental Protection Agency since 2013.
While there are neither official statistics nor a complete list of affected schools, USA Today's analysis of US Environmental Protection Agency (EPA) data showed about 350 schools and day-care centers failed lead tests a total of about 470 times from 2012 through 2015.
The number represents nearly 20 percent of the water systems nationally testing above the agency's "action level" of 15 parts per billion.
According to the report, exceeding lead levels were found in 42 states, of which Maine was the most affected with 44 samples taken from drinking fountains and faucets showing high lead levels at 26 facilities.
In Pennsylvania, 43 samples tested high among 37 facilities, and in New Jersey, 34 cases of high readings were revealed among 23 school facilities.