Chicago woman claims sperm bank mix-up led to mixed-race pregnancy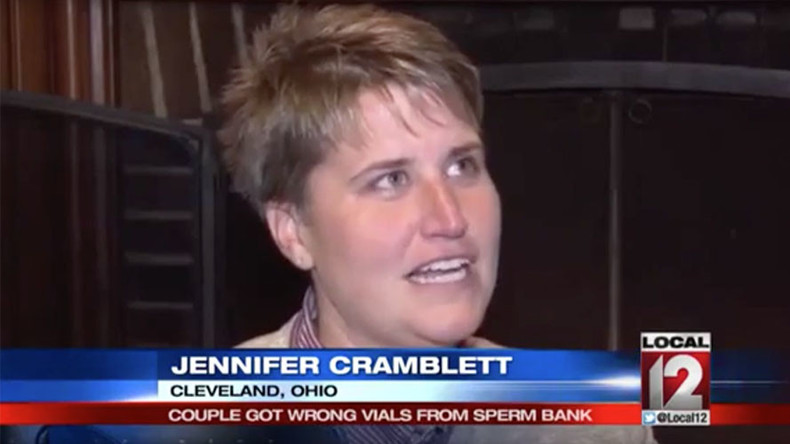 A Caucasian mother in Chicago is suing a sperm bank for negligence and fraud, claiming a mistake by staff at the facility resulted in her giving birth to a mixed-race child.
Jennifer Cramblett's case against Midwest Sperm Bank in Chicago, Illinois was originally dismissed last September on the basis that claims of a clerical error in the donation process lacked legal merit, reported the Chicago Tribune.
However, the Uniontown resident has now reportedly refiled the suit, this time citing misconduct and negligence against those managing her artificial insemination, according to Reuters.
The lawsuit claims staff misread donor numbers, resulting in Cramblett wrongly receiving sperm from an African-American man instead of a white donor.
READ MORE: Bionic semen: 'Spermbot' could speed up slow swimmers for fertility revolution

Statements first issued to a Chicago district court two years ago detail how in 2011 Cramblett and her same-sex partner decided to start a family together.
According to the court documents, the couple decided on donor no. 380, who had "with genetic traits similar to both of them."
However, not long after she became pregnant, Cramblett discovered she had been given vials of sperm from an African-American donor and she eventually gave birth to "a beautiful, obviously mixed race, baby girl."
In the previous court case it was stated that the child is loved "very much."
But Cramblett has launched the second legal cause saying the apparent mix-up has led to "numerous challenges and external pressures" that she was not expecting.
A number of problems deriving from the 2012 pregnancy, including the issue of living in a "racially intolerant" area and coming from an all-white background where some family members speak "openly and derisively about persons of color" were mentioned as part of an earlier lawsuit.