Forest lands and indigenous people 'increasingly insecure' as Paris Agreement signed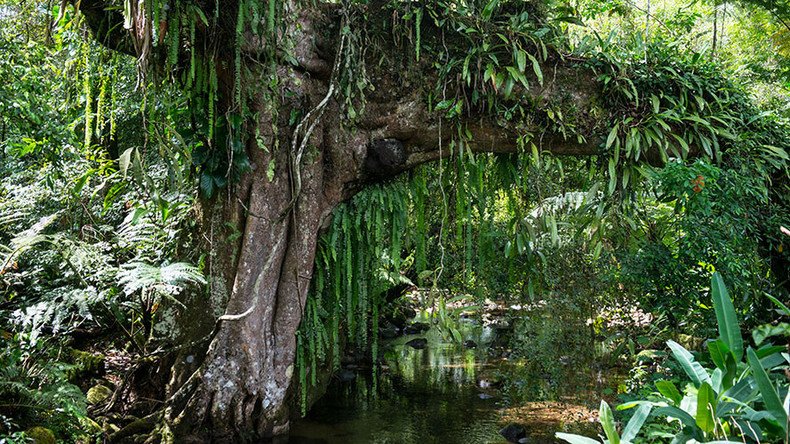 Representatives from 155 countries are in New York to sign a climate-change agreement to limit the rise in global temperatures. Forest-dwelling indigenous peoples claim the pact ignores them and that they face assaults when trying to protect their land.
Those active in securing their land rights in the world's forests and protecting local communities spoke out during a presentation called Forests for Climate – The Science, The Politics, The Indigenous Peoples at the Ford Foundation on Thursday.
"The world is created to be balanced… it is all connected… if… something happens in our territory it will affect you guys here. That's why we have to act together," Mina Setra, an indigenous Dayak Pompakng from Indonesia and deputy secretary general of the Indigenous Peoples' Alliance of the Archipelago (AMAN), told RT.
So far, the Paris Agreement on Climate Change safeguards only 13 percent of tropical and subtropical forest, according to Rights and Resources Initiative, a global coalition of 13 partners and more than 150 international community groups based in Washington, DC. But indigenous peoples feel that the Paris agreement mostly ignores their customary rights to land.
"According to Global Witness in 2014 one environment and land defender was killed every week…almost half of those killed were indigenous people," Darren Walker, president of the Ford Foundation, told reporters.
"These courageous people are protecting the world's forests, and they need our support, they need security to continue the fight," said Walker.
Walker explained that the world's forests contained 29 times more carbon dioxide than the annual emissions of the all world's passenger vehicles. The work of indigenous peoples in managing and protecting the forests prevents deforestation which when it does occur releases massive spikes of carbon dioxide emissions into the atmosphere.
Walker said indigenous people through their efforts are "protecting the planet in the process."
Representatives from 155 countries are in New York on Friday to sign the new global climate agreement at the United Nations. The pact was approved by 196 parties in Paris on December 12, 2015, when countries pledged to work to keep the overall temperature rise below 35 degrees Fahrenheit (2 degrees Celsius). Each country has to submit a proposal plan for actions for the agreement to be effective. The plan includes providing the poor and developing countries with clean energy technology and finance to deal with the effects of global warming such as devastating droughts and flooding.
On top of that, indigenous people insist forest-based mitigation strategies such as the UN-Reduced Emissions from Deforestation and Degradation and the Carbon Fund must recognize their tenure rights in guidelines and as safeguards in implementation.
"In Indonesia we do have problems with conservation, national parks and protected forests. In 2015 we had 11 indigenous peoples' leaders in jail, arrested, because they were protecting their territories and their communities who live in the national park," Setra told RT. "No actually, the national park claimed their territory as a national park, then because the national park cannot give access to people, they shut down the community, attacked the community and ask them to move away from the place."
Rights and Resources Initiative, a non-governmental organization that support forest development and local livelihood, insists that "securing IP/LC [indigenous peoples, local communities] land rights constitutes one the most cost-effective and equitable solutions to fulfilling the ambitious goals of the Paris Agreement," such as helping to preserve environment and eradicating poverty.
Setra said they already had problems with economic developmental efforts and targets, and when solutions are found it, inevitably creates a problem for indigenous people.
"At the end they are always the victims this has to be changed," said Setra. "We want to call out [sic] the government that protecting indigenous peoples is the cheapest, easiest solution. They just need to have a good political will to do it, that's what we want them to do, instead of a bunch of papers."
Deforestation, forest degradation and biomass burning of both forest and agricultural lands represent almost a quarter of the amount of world carbon dioxide emissions. At the same time, forests are large capturers of carbon dioxide as plant life absorbs emissions for conversion into oxygen.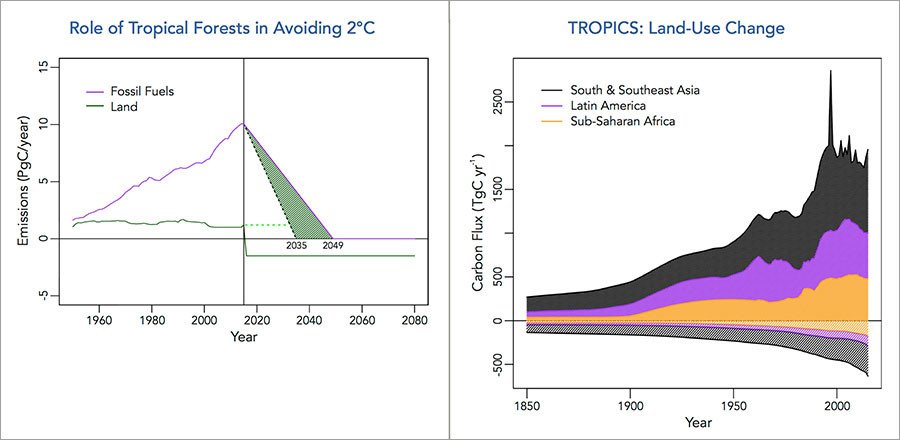 "I think most people…don't appreciate how significant forests are. Emissions from deforestation are a significant part of global emissions…when Indonesian forests burn there is a spike in global emissions," Frances Seymour, fellow at the Center for Global Development and co-author of Why Forests? Why Now? The Science, Economics and Politics of Tropical Forests and Climate Change, told reporters.
"Forests actively absorb carbon from the atmosphere, so every time we clear a forest it is like throwing a hand grenade into the only safe, natural, and proven technology we have for carbon capture and storage. So we can't meet the objective in the Paris agreement of balancing emissions without forests," she added.
Forest protection also moderates local and regional climate by regulating local temperature and rainfall, according to Woods Hole Research Center.
"Stopping tropical deforestation and removing carbon from the atmosphere through forest growth are not a complete solution for climate change, but they should be an important part of the solution," Richard Houghton from Woods Hole wrote in a science update, Forests: The Bridge to a Fossil-Free Future.
Rebecca Myles, RT
@RebMyles
You can share this story on social media: