3 children survive Ohio massacre of 7 adults, 1 juvenile; suspect at large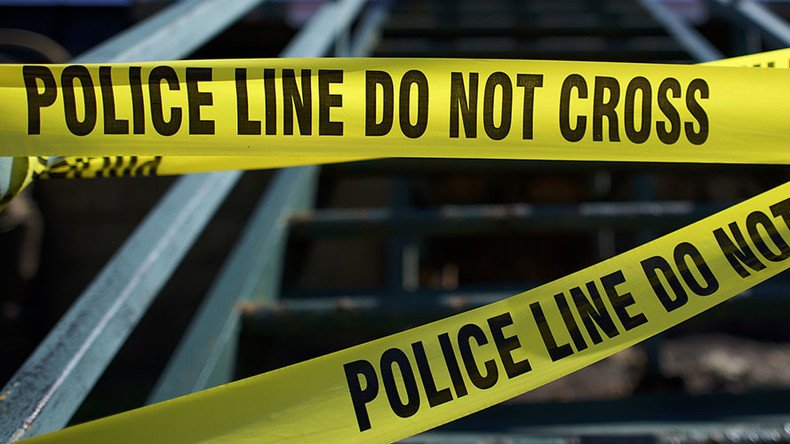 Three young children survived the series shooting that took lives of eight people, all from the same family, police in Pike County, Ohio said. A 16-year-old male is among the dead. The suspect is still at large and considered dangerous.
The surviving children are 4 days old, 6 months old, and 3 years old, Pike County Sheriff Charles Reader said during a Friday afternoon press conference. The victims and survivors are all members of the Rhoden family.
Reader said he knew the family because Pike County is a small community, but refused to say anymore about them because they are grieving and he wanted to respect that.
"We are doing everything in our power to reach out to the [surviving] Rhodens," he added.
The first 911 calls were received around 7:53 a.m. local time, notifying police of two males covered in blood at a home, Reader said. While they were responding to the first location, sheriff's deputies were flagged down and given two additional addresses. There they found additional victims who had been shot and killed.
"Each one of the victims appears to have been executed. Each one of the victims appears to have been shot in the head," Ohio Attorney General Mike DeWine said, noting that none of the individuals appeared to have committed suicide, leading law enforcement to suspect that at least one shooter remains at large.
Some of the victims were in bed when they were shot and killed, DeWine said.
"The one mom was apparently killed in her bed with the 4-day-old right there," he told the media.
The victims were found in four locations, two of which were within walking distance of each other. The second location was about a mile away, while the last one was about 10 minutes away by car, the lead investigator said.
"Right now, we have no one in custody," Reader said. "There is a strong possibility that any individuals involved in this are armed and extremely dangerous."
"We believe they are still at large, we do not know their location, but we would advise the people of Pike County not to panic, but certainly to be very careful," DeWine added. "We have one person who is armed and dangerous, and there may be two, there may be there. We don't know how many people we're talking about."
Law enforcement officials are advising surviving Rhoden family members to be very careful and to take particular caution because the shooter or shooters are still on the loose, the attorney general said.
The call for the final location came in later in the morning, Reader said. The Pike County Sheriff's Office received a 911 call about a possibly deceased male who appeared to have a gunshot wound, he added. That home was about 30 miles away from the previous three crime scenes.
DeWine described the location as "an outlier in the sense of time."
The sheriff's departments from Pike, Jackson, Ross and Adams Counties are all helping investigate, Reader said. The Pike County prosecutor, children's services and coroner are also involved. The FBI's Cincinnati Division is monitoring the situation, the agency tweeted earlier in the day.
You can share this story on social media: