Houston flooding kills 8, causes billions worth of damage (PHOTOS, VIDEOS)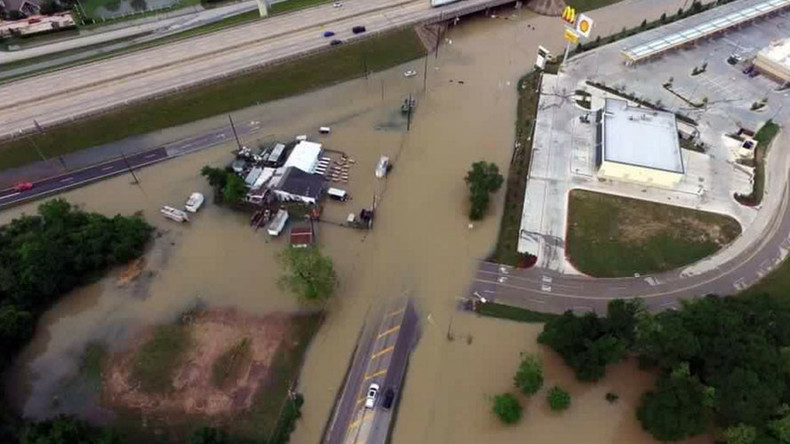 Drone footage of Houston, Texas in the wake of severe flooding shows the devastation visited upon the city.
The floods have resulted in at least eight deaths and damage estimated to be in the region of $5 billion.
Heavy rain hit the area Sunday evening and continued into Monday, bringing an estimated 17.6 inches (44.7cm) of rain over a single day.
READ MORE: Central, east Texas hit with major storm, flash flooding shuts down Houston
More than 1,000 homes have been affected by the catastrophic flooding, and 1,200 people are reported to have been rescued since it started.
A flood warning remains in place for a number of areas in Harris and Fort Bend counties, as well as Addicks Reservoir, in west Houston.
#AddicksandBarker: Water release rates and downstream conditions will continue to be monitored to minimize impacts downstream.

— USACE Galveston (@USACEGALVESTON) April 22, 2016
#AddicksandBarker: Addicks water level is at 102.5, expected to grow to 102.8. Barker is at 95.2, expected to grow to 95.3.

— USACE Galveston (@USACEGALVESTON) April 22, 2016
According to CNN an estimated $5 billion worth of damage was done across the region. The Cypress-Fairbanks Independent School District says it could cost them $4 million to repair 53 school campuses, the Houston Chronicle reports.
A storm relief fund has been set up to deal with the aftermath of the crisis.
Meanwhile, some residents have taken to social media to share their images from the massive flooding.