Baltimore cops sued over brutality, unlawful arrests during Freddie Gray protests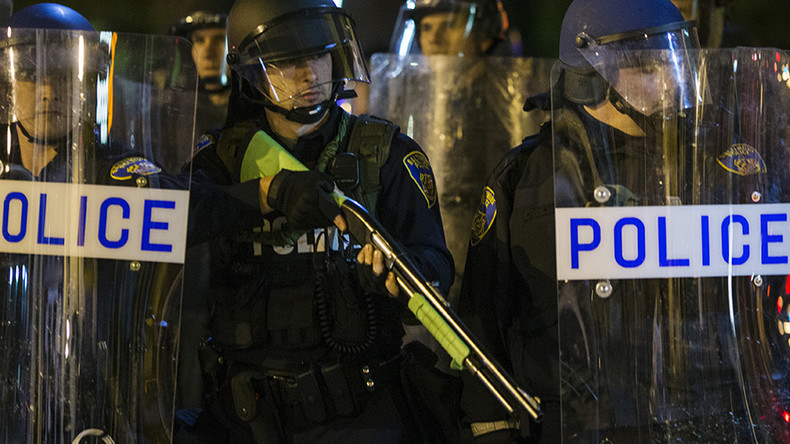 Baltimore police abused and violated the constitutional rights of six people who they arrested during the unrest provoked by Freddie Gray's death in police custody, according to a new lawsuit filed by the men who were detained.
Filed on Tuesday, the lawsuit targets the State of Maryland, the Baltimore Police Department, former Police Chief Anthony Batts, and 22 other officers, the Associated Press reported.
The six plaintiffs claim they were beaten and abused by law enforcement during the protests following Gray's death in police custody and that officers "tore apart" their constitutional right to protest with their behavior, according to the Baltimore Sun.
The men are each seeking more than $75,000 in damages on each of 10 counts: excessive force, illegal arrest, false imprisonment, deprivation of liberty and property, false arrest, battery, a pattern or practice of constitutional violations, civil conspiracy, negligence and gross negligence.
Each plaintiff is also seeking more than $75,000 in damages from Batts, the Baltimore PD and the state of Maryland for negligent hiring, and poor training and supervision, the Sun reported.
One of the plaintiffs is 24-year-old Baltimore resident Larry Lomax, who was filmed getting pepper-sprayed in the face by police at point-blank range when he attempted to cross a street after a 10pm curfew. He was detained and dragged by his hair, and was ultimately charged with assault, inciting a riot, curfew violation and disorderly conduct, according to AP. Three of the charges were eventually dropped and he was acquitted of the disorderly conduct charge.
In the lawsuit, Lomax said he dealt with burning and intense pain, and that police used an "incapacitating spray" meant for large crowds against him instead of normal pepper spray.
Four of the other plaintiffs were also hit with multiple charges, including assault, disorderly conduct, and carrying a dangerous weapon. All of their charges were eventually dropped.
Albert Tubman, 45, said police knocked him to the ground when he was trying to exit his vehicle, hit him with a baton and arrested him. Eric Glass, 27, said he was tackled, punched, and kicked by police for filming the protest.
Another plaintiff, 21-year-old Myreq Williams, said police broke his arm when they removed him from a bus. He was never charged with any crime.
The Baltimore PD has been placed under heavy scrutiny ever since the 2015 death of Gray, a 25-year-old African-American man. Police said he ran away from them when they made eye contact and that he was carrying a switchblade when they arrested him, but Gray suffered serious injuries while being transported in a police van – including to his spinal cord – before falling into a coma and dying one week later.
In the aftermath of the protests and rioting, the Justice Department initiated a probe into the Baltimore PD to determine whether the agency has a systemic pattern of discriminatory policing or unconstitutional use of force policies.
One former Baltimore PD sergeant who blew the whistle on the agency's alleged corruption and excessive use of force policies, Michael Wood, told RT that even though Commissioner Batts has been replaced, "It doesn't seem like much has changed."
"I see a lot of lip service, but I don't see anything in actual ground-level, do-something-different [behavior] … to stop being the oppressor in these neighborhoods. And to stop being the one that just fills up bodies in prison cells," he said. "That's still the fundamental mission."
He has called for civilian review and command of the entire Baltimore PD, including a panel to give direction to the department. He also said that there must be new metrics that judge officers based on the good they do rather than how many people they arrest.
"Everyone is a Freddie Gray here," he said. "That was the final straw that made a lot of us understand that we had to stand up for justice, and that the oppression has been going on here for a long time."