'Out in the open': Half-mile long drug tunnel connects US to Mexico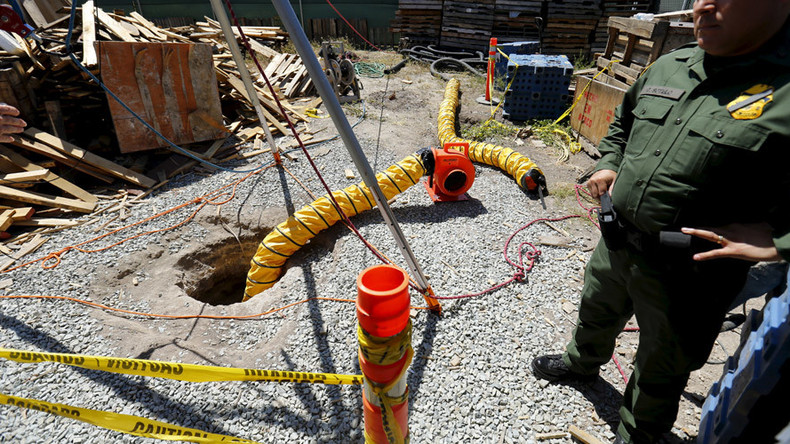 As Americans argued over the ethics and logistics of building a wall between the US and Mexico, drug traffickers were busy digging. A half-mile long tunnel connecting Mexico and San Diego was found to contain more than a ton of cocaine.
An 800-yard long tunnel linking Tijuana to Southern California was found to have been equipped with a rail system, ventilation, lights, and a large elevator, the Las Vegas Sun reported. The US attorney's office said that six people were arrested in San Diego on Friday in connection with drug related crimes, as well as the construction of the tunnel.
It is unclear what led to the arrests, but the purpose of the tunnel seems pretty clear, as KABC reported that 2,242 pounds of cocaine and more than 14,000 pounds of marijuana were found inside. The US attorney's office claims it is the 13th large-scale operational drug smuggling tunnel to appear in California since 2006, and the third discovery of its kind in Southern California in recent weeks, KNSD reported.
The tunnel, which runs the length of over eight football fields, had one entrance in an industrial part of San Diego, where trucks and construction could go unnoticed and provide cover. It led all the way to the inside of a closet in a Tijuana home.
Although these types of structures are not uncommon, the boldness of this tunnel stands out.
"I think few, except the agents who work this area, who are very attune to this area and what's going on, would even suspect this kind of business is taking place out in the open," US Attorney Laura Duffy said at a news conference.
Lupita Flores, a business owner in the area, told KNSD, "I don't even know what they were doing over there. I just saw the pallets but that was it. We never saw what they were doing. So I have no idea."
In the past five years alone, federal authorities have discovered over 75 cross-border tunnels – primarily in the Southwest.