Seeing green: More banks willing to deal with legal marijuana businesses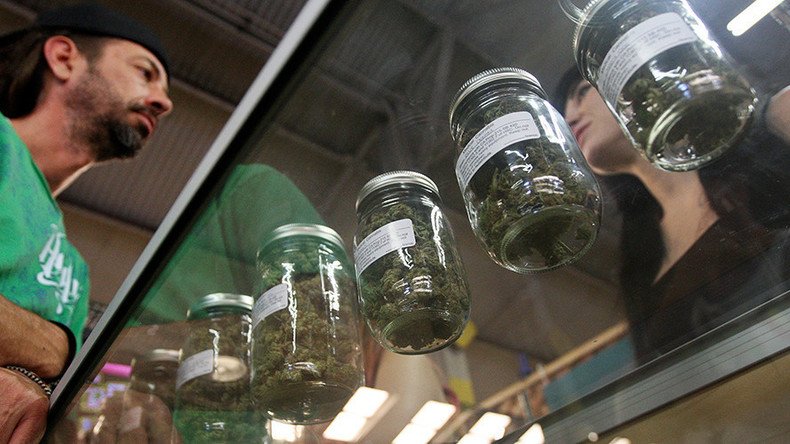 As more states contemplate legalizing recreational marijuana, the businesses that pop up are going to need banking solutions. Fortunately for them, more US banks are becoming willing to dabble in the cannabis trade.
Over the last two years, the number of banks and credit unions open to dealing with marijuana businesses has increased by almost six times, the Associated Press reported, citing federal data. Back in March of 2014, only 51 banks and credit unions in the country were willing to deal with cash from pot businesses, but the number now stands at 301.
The large increase is surely due, in part, to the momentum that supporters of legalization have gained over the years. Since 2012, four states – Washington, Colorado, Oregon and Alaska – and the District of Columbia have legalized recreational marijuana. This year, several states, including California and Nevada, could vote to permit casual pot use as well.
However, another reason that banks have become less reluctant to enter the pot trade is that some states have started to make it easier for them to know when a business is operating legally and when one might constitute a substantial risk.
While federal law bans banks and credit unions from accepting money linked to marijuana, the Treasury Department relaxed those rules two years ago, allowing banks to work with pot businesses if they can ensure that pot shops in compliance with state marijuana regulations and aren't part of a money laundering scheme or other criminal network.
However, banks have generally stayed away from the industry altogether since information on a pot business' practices was difficult to ascertain. Consequently, loans were difficult for business owners to secure, and marijuana shops could not accept credit or debit card payments because banks didn't want to be connected with the business. This resulted in ATMs being placed in most stores and forced marijuana businesses to deal with large sums of physical cash, which forced pot stores to beef up security to protect against robbery and ensure cash was safely transported.
In California, some business owners would deliver hundreds of thousands of dollars in cash to tax collection offices because there was no way for them to pay taxes electronically, according to a report from KTOO.
In order to make things easier for banks and business owners, Washington state has started publishing the sales activity of licensed marijuana growers and sellers online. Additionally, the state reveals when these businesses receive penalties or are flagged for not following state regulations. With more information at their disposal, banks now feel more comfortable dealing with pot shops.
In Washington, at least, the strategy seems to be working. Just 10 percent of all pot tax payments were made in cash in December of 2015, and in January and February of 2016, about 75 percent of all pot businesses paid taxes to the state either electronically or by check, the AP reported.
In Colorado and Oregon, however, no data is available on sales activity, and so it is unclear how many businesses are still paying their taxes in cash or whether they have access to banking options.
According to the office of US Representative Ed Perlmutter (D-Colorado), roughly 40 percent of Colorado's pot businesses don't have a bank account, KTOO reported.
While banks have become more open to servicing the pot business, many will likely keep their doors closed unless the federal government moves to remove marijuana from its list of most dangerous drugs. It's currently listed as a Schedule I substance by the Drug Enforcement Administration, which means it is subject to the toughest restrictions in the country.
"Some sanity has to be brought into this banking issue," Beau Whitney, an industry economist in Portland who handles government affairs for a local dispensary, told AP. "At some point in time, this is going to be an industry that's going to be too big to ignore."
You can share this story on social media: