Automatic sprinklers accidentally drench movie goers at water tax-funded Tennessee stadium (VIDEO)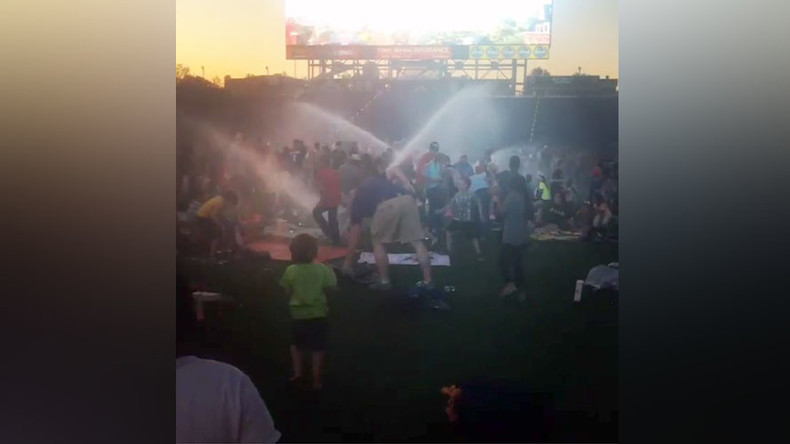 Hundreds of Tennessee Titans fans enjoying an off-season film at the team's Nashville stadium, which was built with a water tax increase, got soaked when the automatic sprinklers went off by accident.
Captured on a number of smartphones and posted online, season ticket holders watching the children's animated film Minions on the 'Jumbotron' had to duck and cover during the free screening.
"Some sprinklers went off for about 30-45 seconds in one quadrant of the field, which was unfortunate and unexpected since we had changed the timers for the sprinklers," the team said in a statement.
The unlucky few sitting in the wrong quadrant required a few towels, but no injuries were reported.
The water spray may be more welcome during Nashville's infamous hot summer nights, especially during Beyonce's concert next month or the Guns N' Roses reunion show in July, although Axl Rose should be careful not to get the cast on his foot wet.
The incident is ironic since the stadium was built with the help of a voter-approved increase in the local water tax and maintained by a 300 percent increase in property taxes.
$144 million in taxpayers' money went into the city-owned football shrine in 1996, long before the national pushback against publicly-funded sports facilities.
More than $12 billion in public money has gone into stadiums since 2000, often extorted by the super rich owners with a relocation threat.
Taxpayers kicked in $325 million towards the $1.2 billion Dallas Cowboys megaplex that opened in 2009 while the NFL's newest stadium for the Minnesota Vikings is funded with an estimated $498 million in public money, a deal pushed through by an "authority" without citizen consent.
I stopped watching #Twins after they conned our elected leaders they needed public funding to build a new stadium & #compete! Fans, enjoy!

— Ken Bradley (@REVOLUTIONSOLAR) April 14, 2016