Sight for sore eyes: NYPD roughly arrests blind man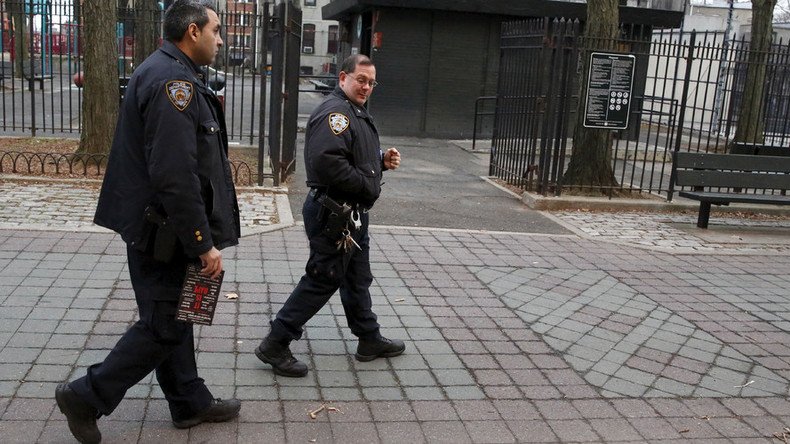 Claude Ruffin had no idea why two men grabbed him until he reached out and felt a gun. That was the moment NYPD officers roughly arrested the blind, disabled veteran. Ruffin is now moving forward with a lawsuit.
Ruffin, 62, was minding his own business when he was arrested in the Borden Avenue Veterans Residence. Celebrating New Year's Eve inside the Long Island shelter, Ruffin was wearing his dark-colored glasses while sitting on his bed when two officers entered his room in 2014, the New York Daily News reported.
Unbeknownst to Ruffin, a Mississippi native who hasn't had eyesight since 2001, the veterans' shelter's security had called the police, thinking he had kicked a door. It was later determined that Ruffin had not kicked the door but bumped into it while walking without his cane.
"I'm not expecting for police to come," Ruffin told the New York Daily News. "Two people grab my arms. But I was cool. I walked outside with them, but then they began to manhandle me!"
After being grabbed by two unidentified men, Ruffin struggled and pulled his arm away. The two officers fought back and wrestled him to the ground, when he "went to get up and I put my hand on one of their guns," Ruffin said to the Daily News. "I said, 'Oh, this is the f---ing police!'"
Two shelter residents were arrested in the confrontation as well. Shabazz Ali and Henry Davis came to Ruffin's defense.
"We kept yelling, 'You're dealing with a blind man! You're dealing with a blind man!'" Ali told the Daily News. However, it did not help ease the situation, and Davis was pepper-sprayed and "nearly shocked with a stun-gun as he struggled with officers," according to the Daily News.
The scuffle between the former plumber and two police officers, and resulted in Ruffin begin charged with resisting arrest and assaulting a police officer. Ali and Davis were arrested as well. Now, they are joining Ruffin in a lawsuit against the NYPD.
The charges against Ruffin were dismissed, and the ones brought against Ali and Davis were not stated. However, the charges did prevent Ruffin from finding permanent housing, according to his attorney, David Thompson.
Thompson feels that the city is not doing enough to ensure that blind citizens receive proper and adequate treatment from law enforcement. "[Police] have to identify themselves and they have to do it in a way a blind person can trust," Thompson said to the Daily News. "Saying that they're a cop is step one, but it doesn't necessarily do enough. This was not an emergency situation where they couldn't take off their badge, hand it to him and say, 'Feel this.'"
The lawsuit goes beyond the officers who arrested Ruffin. It alleges that the NYPD failed to create protocol to handle arresting visually disabled individuals.
"The NYPD Patrol Guide, which is approximately 2,000 pages, mentions blind people only once," the lawsuit reads. "It states that police should not take enforcement action against a blind person for violation of the Canine Waste Law.'"
Although the NYPD would not comment on the case, an anonymous police source with knowledge of the case told the Daily News that Ruffin was intoxicated and seriously injured a female police officer, requiring her to be hospitalized. The source claims that the Civilian Complaint Review Board reviewed the case and exonerated the officers.
You can share this story on social media: