Behind books, not bars: Parents ask high school to stop arresting students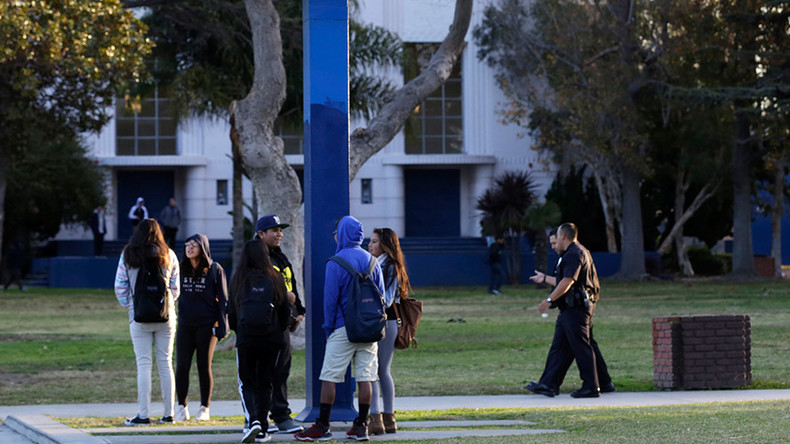 Parents of students attending Terry High School are worried the school isn't preparing their kids for college as much as prison, pointing to dozens of arrests and security drills that they feel have created a school-to-prison pipeline.
Parents attended a Thursday night board meeting with school officials in Terry, Mississippi with their goal displayed on their T-shirts.
"Stop arresting our children. Let kids be kids," was their message, loud and clear. But for school officials, the real problem went beyond youthful high jinks.
Dr. Delesicia Martin, Superintendent for the Hinds County School District, told WJTV that the school does not involve law enforcement unless a law is being broken.
"Our definition of disorderly conduct includes a major fight that caused bodily harm or disruption in the classroom," Dr. Martin explained.
WJTV was also told that three teachers were injured trying to break up fights. However, a far higher number of students have been arrested. Since 2013, 57 arrests have been made on students – 31 of which took place during the 2015-2016 school year.
One strange occurrence at the predominantly black high school was a security drill last month. Hinds County sheriff's deputies came to the school for what officials called a "safety exercise" and what school officials deemed "a security sweep" as police went through the school, WAPT reported.
Hinds County School District spokesman John Neal said in a statement that the school had conducted the exercise because, "It is our hope that these exercises will deter inappropriate behavior and cause minimum distractions to the learning environment and the media, while yet necessary," Neal said.
The Southern Poverty Law Center has been working with the parents and contacted district officials to discuss reconsidering their discipline policy.
"As a result of these arrests, a large number of students are being pushed out of Terry High School and into the juvenile justice system, (which) is the school-to-prison pipeline," Lydia Wright, a law fellow with the non-profit, told WAPT.
You can share this story on social media: