University used $175,000 to bury 'pepper spray' cop internet searches (VIDEO)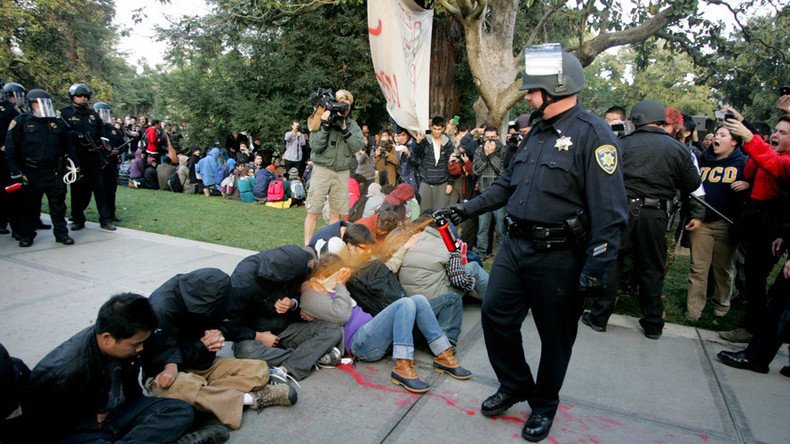 Officials at University of California at Davis have reportedly spent $175,000 trying to digitally suppress the memory of the time campus police indiscriminately pepper sprayed Occupy protesters – to no success.
The university, with a student population of just over 35,000, wants people to forget that in November 2011 campus police lost the run of themselves when responding to a sit-down protest.
Footage from the scene, showing campus police Lt. John Pike discharging military-grade pepper spray into the eyes of student protesters sitting on the ground, caused outrage around the world.
It quickly became a social media meme, with the incident resulting in a number of legal cases, including an agreement by UC Davis to collectively compensate victims to the tune of $1 million.
According to freedom of information documents requested by The Sacramento Bee newspaper, UC Davis paid two separate consultant firms to try to clean the internet of bad publicity.
Some $92,970 out of the university's communications beefed-up budget was paid to Maryland state PR firm Nevins & Associates in 2013, report the Sacramento Bee.
Meanwhile, a year later an $82,500 contract was signed with ID Media Partners to design a "search engine results management strategy."
A document by Nevins & Associates details the plan to filter out "venomous rhetoric" concerning UC Davis and its chancellor, Linda Katehi.
READ MORE: UC Davis Slammed for pepper spraying students
"Nevins & Associates is prepared to create and execute an online branding campaign designed to clean up the negative attention the University of California, Davis, and Chancellor Katehi have received related to events that transpired in November 2011," it reads.
A list of objectives by the public relations firm reveals a plan to launch an "aggressive" campaign to dilute negative search results and eradicate references to the pepper spray incident on Google.
The company advised optimizing the use of Meta tags and feeding local media "content with positive sentiment."
Chancellor Linda Katehi was roundly criticized for her reaction to the Occupy Wall Street protest at the time, with students demanding her resignation.
#UCDavis Chancellor Linda Katehi said today she doesn't need to resign over pepper spray incident. Three separate investigations underway.

— CBS Sacramento CBS13 (@CBSSacramento) November 23, 2011
"We have worked to ensure that the reputation of the university, which the chancellor leads, is fairly portrayed," a UC Davis spokesperson said.
"We wanted to promote and advance the important teaching, research and public service done by our students, faculty and staff, which is the core mission of our university."
US Representative Kevin McCarty (D-California), who serves and chair of the Assembly Budget Subcommittee on Education Finance, said that the PR expenditure was "troubling" given the increase in university tuition.
"It is troubling that the administration chose to spend scarce public dollars and to nearly double its PR budget when tuition soared, course offerings were slashed and California resident students were being shut out. These findings just raise more questions about university priorities," he posted on Facebook.
You can share this story on social media: