Thousands take to streets, McDonald's across US to fight for $15 minimum wage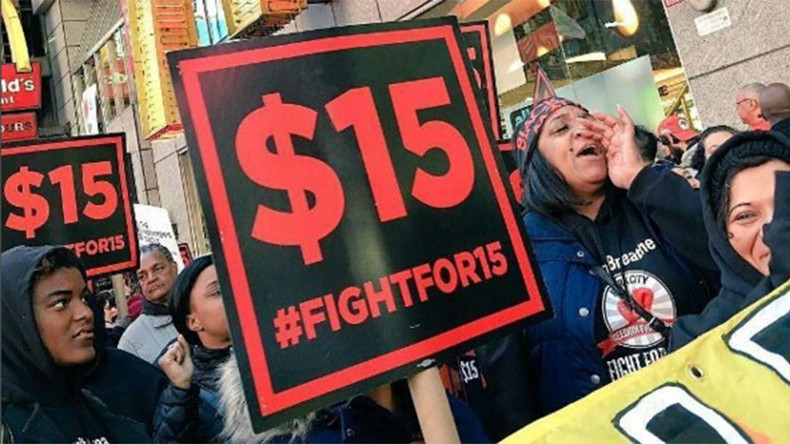 Thousands of people in 300 cities across the United States – and the world – took to the streets n Thursday to push for a $15 minimum wage. The movement successfully pushed both New York and California to raise wages over the next few years.
In Pennsylvania, nurses joined protests to show their support for raising the minimum wage. Marching bands and chants of "We're fired up, can't take it no more!" are following the protests in Philly and Pittsburgh.
In Florida, fast food workers were joined by childcare professionals and home care workers.
In Chicago alone, thousands of people were expected to protest at five different strikes around the city, according to CBS Chicago. The events began at 7 a.m. when 100 people showed up at a McDonalds to rail against the restaurant's low pay for workers and argued for unionization.
"This is our message today: McJobs are costing us all. Every person that is employed at a McJob; whether it's child care, home care, CPS, Chicago Public Schools, even adjunct professors at universities, that is a McJob where you don't have benefits. You're still living in poverty, and you go to work every single day making billion-dollar corporations rich," said McDonald's worker Angel Mitchell to the news outlet.
"We're not here to be billionaires. We know that for the lower class and the poverty class, that's a stroke of luck. However, we are here to get $15 and union rights for all people, all work industries that have a McJob."
As activists gathered and marched, they held signs reading "On strike against McPoverty jobs." They argued that Americans are paying $7 billion every year to fund food assistance programs, something that could be dramatically reduced with higher wages.
In California, where Governor Jerry Brown signed a bill raising the minimum wage to $15 per hour by 2022, workers flooded the streets in support of wage hikes across the US, but they also pushed for stronger union rights.
Protesters coalesced around a Wells Fargo bank in San Francisco to say "It's time for a living wage."
In New York, where the wage will be raised to $15 per hour by 2018, the crowd at Times Square was smaller than last year's, according to the Guardian, but dozens of people still showed up to push for increased pay around the country.
Currently, the federal minimum wage stands at $7.25 per hour, though some states offer a higher floor. Activists have been pushing for $15 per hour for years now, arguing that the status quo is simply not sufficient considering inflation and rising costs of living.
While protesters have seen some support from Democrats – including President Obama – who want to see wages raised to at least $12 an hour, the Republican-led Congress has so far declined to move forward on any legislation. Democratic frontrunner Hillary Clinton has come out in support of a $12 wage, while Vermont Senator Bernie Sanders has rallied behind $15. Republican candidates have not voiced support for a $15 floor.
In Detroit on Thursday, demonstrators, union workers, and child caretakers came out to argue they need more than the current minimum wage, drawing support from City Councilwoman Janee L. Ayers.
The protests weren't limited to the US. Dozens of people came out to strike in Argentina and Brazil, where they are upset over low pay and poor working conditions.
Demonstrations were also reported in the UK and Finland.