Former House Speaker Hastert facing jail over sex abuse cover-up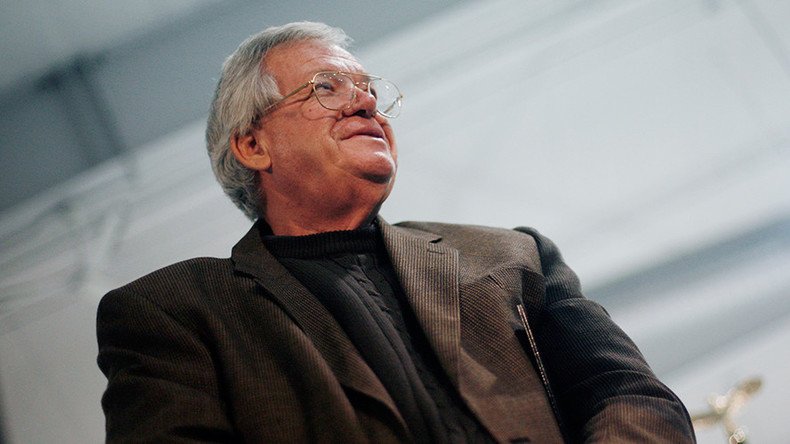 Former Republican and Speaker of the House of Representatives Dennis Hastert could be jailed for six months for trying to cover up a $3.5 million payoff to one of five boys he allegedly molested when he was a high school teacher in Yorkville, Illinois.
The abuse allegations date from 1965 to 1981, when Hastert was a teacher and wrestling coach at Yorkville High School in Chicago prior to becoming an Illinois state legislator.
Hastert was initially charged on a two-count indictment in May of 2015 for deceiving investigators about $3.5 million he had privately agreed to pay a certain "individual A" as restitution for an unspecified "prior misconduct." He was also accused of withdrawing money in such a way that kept banks from reporting his transactions to the government, to which he pleaded guilty in October of 2015. The nature of the misconduct for which he had paid the person were not named.
That question has now been clarified, however. Court documents filed on Friday detail the former Republican's sordid past and the great lengths to which he went to cover it up.
Prosecutors detail how Hastert would first offer his victims a massage before abusing them, leaving the boys to "feel alone, ashamed, guilty and devoid of dignity."
One of the victims, known only as Individual A, was abused at the age of fourteen at a motel where the team was staying while attending a wrestling camp.
Hastert told the boy that he wanted to "check on" a groin injury, insisting that the teen strip naked so that he could give him a massage, after which he touched him inappropriately.
Guess we have a new definition of "The Hastert Rule." ->
Don't tell your parents.

— Jimmy LaSalvia (@JimmyLaSalvia) 9 апреля 2016 г.
Hastert is also accused of performing sex acts on two other boys, aged 14 and 17, in the locker room of the Yorkville high school, while a fourth boy, also underage at the time, claimed Hastert "brushed his hand against [the boy's] genitals" during a massage.
A fifth boy, Stephen Reinboldt, also associated with the wrestling team, is also alleged to have been abused by Hastert, but Reinboldt died of AIDS in 1995.
Also detailed in the documents is how Hastert would often sit on a "lazyboy"-type chair in full view of the locker room showers to watch the boys shower, which he would tell them he did in case a fight broke out – a detail Andy Richter, sidekick to chat show host Conan O'Brien, also recalls from his time at the school.
"While defendant achieved great success, reaping all the benefits that went with it, these boys struggled, and all are still struggling now with what defendant did to them," the filing reads. "Some have managed better than others, but all of them carry the scars defendant inflicted upon them."
This Hastert crime is one of the sickest things to ever come out of Congress. And that is saying a lot.

— Tina Issa (@tinaissa) 9 апреля 2016 г.
Hastert, who would have been second in line to become president during George W. Bush's time in office, cannot be charged with sexual abuse, however, as the statute of limitations on the cases has run out, but the filing does state that the "government seeks to hold defendant accountable for the crimes he committed that can still be prosecuted."
Hastert's shady past, whose revelation resulted in his portrait being removed from the US Capitol, was, ironically, uncovered thanks to the US Patriot Act, a bill he fought hard for as House Speaker.
Under the Act, bank officials have to alert authorities to cash transactions of over $10,000. Hastert fell foul of this requirement when making 15 withdrawals of $50,000 between 2010 and 2012 and then, in attempt to flout the laws, repeatedly withdrew cash in $9,000 increments over the following two years.
According to the filing, Hastert told bank officials at the time that he "was aware of the law, but that the PATRIOT Act was just for terrorism and he (defendant) was not a terrorist."
Too bad North Carolina didn't pass a law to keep Dennis Hastert out of bathrooms

— Lisa McIntire (@LisaMcIntire) 9 апреля 2016 г.
By late 2014, he had taken a total of $1.7 million out of three accounts. When he was confronted by the FBI over the withdrawals, he told the agents that he had made them because he was being extorted by a former student from Yorkville who claimed he had sexually assaulted him.
Taking him at his word, the FBI told Hastert that they wanted to record phone calls between him and the person, who turned out to be Individual A, but it became clear to investigators that Hastert had, in fact, abused the person, and Individual A wasn't, in fact, extorting him.
It transpired that after having spent decades trying to deal with what had happened to him as a teenager, individual A asked Hastert for $3.5 million as restitution for the abuse, and Hastert agreed to pay him to keep quiet.
Too bad North Carolina didn't pass a law to keep Dennis Hastert out of bathrooms

— Lisa McIntire (@LisaMcIntire) 9 апреля 2016 г.
Hastert's lawyers said that the politician is "profoundly sorry" for what happened and have asked the court to take into consideration the public shame the ex-Speaker has endured, as well as his work in the public sphere and ill health, when sentencing him on April 27.
Prosecutors say, however, that Hastert's ascension in politics was only possible because he was able to keep his secret under wraps, and that his "legacy of sexual abuse and its real consequences are as much a part of defendant's history and characteristics as those he has presented to the court."
In 1998, Hastert was a keen advocate of impeaching then-President Bill Clinton over his affair with Monica Lewinski, telling Congress at the time that Clinton had "abused the powers of his office in an attempt to cover up his wrong doing" and "abused and violated the public trust".
You can share this story on social media: