'No legal basis': Michigan governor asks Flint water lawsuit targeting him be dismissed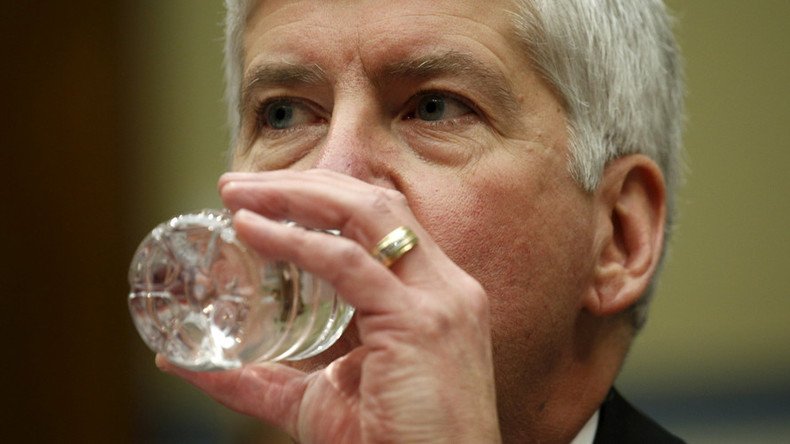 Michigan Gov. Rick Snyder is seeking have a class action lawsuit filed against him by Flint residents over their water's contamination be dismissed. He argues the case cannot proceed to trial due to its late filing.
In a complaint filed on his behalf, Gov. Snyder responded to the case filed by 10 Flint residents seeking damages over improper water treatment starting April 2014. Snyder's lawyers insist that the plaintiffs, who filed their lawsuit in January 2016, failed to meet a six month deadline following the "cause of action."
"Plaintiffs did not give timely notice of their claims. There is no legal basis for extending the notice period," the complaint said, according to the Detroit News.
On January 19, Melissa Mays and nine other Flint residents sued Snyder, former Flint emergency managers Darnell Earley and Jerry Ambrose, as well as the state's departments of environmental quality and health and human services. They are seeking "compensatory damages" for those harmed by the Flint water crisis.
"For more than 18 months, state and local government officials ignored irrefutable evidence that the water pumped from the Flint River exposed the Plaintiffs and the Plaintiff Class to extreme toxicity, causing serious and dire injury and health hazards, and property damage to the Flint water users," the federal suit read.
Arguing that Snyder and his staff's policy in Flint led to the lead contamination of water and mass poisoning, the plaintiffs asked the court to pronounce their actions "unconstitutional."
Plaintiffs also want the officials to set up a fund for the victims' medical care.
Mays' lawsuit, which was the first to seek class action status on behalf of Flint residents, set a precedent for similar cases to follow.
On April 4, Snyder was targeted by another class action suit that accused him of racketeering. That suit, which includes over 400 plaintiffs, was filed under the RICO Act, originally instituted to go after mob bosses.
The complaint filed under RICO also named Snyder's former chief of staff Dennis Muchmore, the state of Michigan, the Department of Environmental Quality, the Department of Health and Services and more than a dozen of its employees as well as the city of Flint and its former mayor along with several private companies involved in evaluating and administering the city's water system.
The suit alleged that "poisoning of the residents of Flint, Michigan with toxic drinking water" was triggered by a budget crisis in Michigan that had forced officials to switch the water source instead of declaring bankruptcy.
"Instead, they conceived and enacted a wrongful scheme to solve Flint's fiscal problem by selling Flint residents poisoned drinking water from a new, free water source," the lawsuit read.
In April 2014, Flint stopped purchasing treated water from Detroit, which it had been doing for some 50 years, and began tapping the corrosive Flint River as its drinking source. However, the state did not require the water to be treated with anti-corrosives, as mandated under federal law, and the water became contaminated when it leached lead off city pipes as it traveled to homes, exposing babies, children and other residents to poisoning.
READ MORE: 'Kick in the teeth': Michigan taxpayers might pay $2.7mn in Flint legal fees

Flint officially switched back to the Detroit water system in October 2015, but the crisis in Flint had not received national attention until Flint Mayor Karen Weaver declared a state of emergency over the situation in December.
On April 2, Weaver said she was not planning to sue the state of Michigan over her city's water crisis, but she did file a "notice of intention" to do so.
You can share this story on social media: