Two people killed at Lackland AFB in Texas, murder-suicide suspected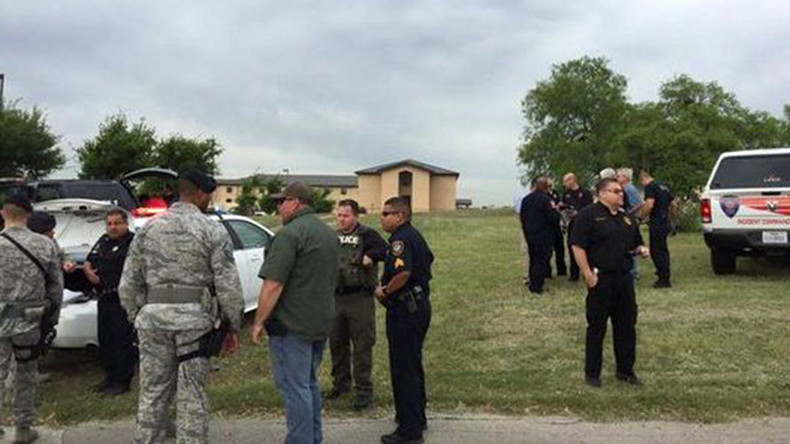 Two people have been found dead at the Lackland Air Force Base near San Antonio, Texas, in what appeared to be a murder-suicide, according to Bexar County Sheriff's department.
Deputies have found two victims, Bexar County Sheriff's Department spokesman James Keith told reporters. They believe that the shooter is one of the victims.
"It does appear to be a murder-suicide situation," Keith said. "We do believe that the shooter is accounted for."
The shooting was "not an act of terrorism," the FBI said at a news conference at 11 a.m. local time Friday. Officials said that two weapons were found at the scene. The military is withholding the names of the victims until their next of kin are notified.
Law enforcement searched the building, trying to gain access to several locked rooms and check if there were any further victims.
"We don't believe the shooter is still active," Keith said.
Though Keith would not confirm which building was the crime scene, reports from the base indicated the shooting happened at the Medina Annex, the western portion of the main base.
Police, FBI and military investigators are focusing on Forbes Hall, local media reported.
The Joint Base San Antonio-Lackland confirmed a "real world active shooter situation" in a statement on Friday morning, but said "there have been no injuries confirmed at this time."
"All schools and child development centers are currently locked down," the statement said.
Lockdown orders were lifted at the base, as well as the Allen Elementary and Rayburn Middle schools, around 10:20 a.m. local time. Valley High Elementary school nearest to the base remained on lockdown, however.
The initial police report of a shooting came in at 8:45 local time – 9:45 a.m. Eastern time. Around 8 a.m. the base hosted a graduation parade of the Air Force's basic military training class.
As one USAF Security Forces member explained on Twitter, Medina Annex is where the Security Forces, targeting specialists and foreign nationals train, and it is on the other side of the base from where the Basic Military Training takes place.
The Joint Base San Antonio was created in 2010 by the merger of US Army Fort Sam Houston, and USAF bases Randolph and Lackland. The facility is operated by the USAF 502nd Air Base Wing, part of the Air Education and Training Command (AETC).
The base is approximately 7,000 acres in size, with about 9,000 personnel present at any given time.