'I'm f----d': NYPD officer reportedly panics in reaction to FBI 'cash-for-favors' probe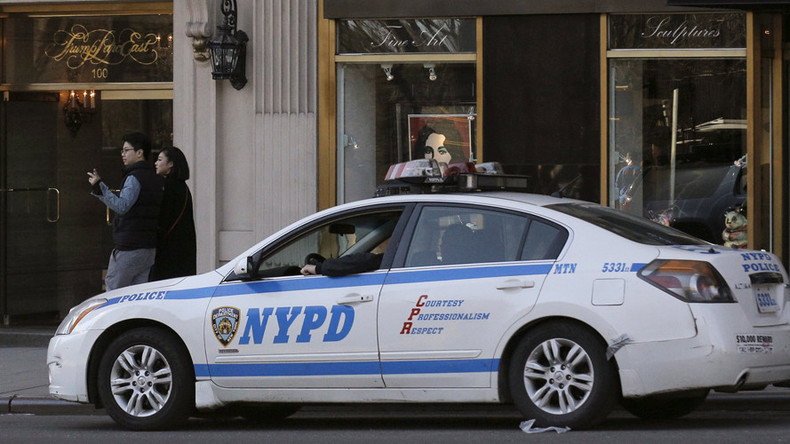 The FBI is investigating an alleged cash-for-favors scheme that involved over a dozen NYPD officers and businessmen with links to Mayor Bill de Blasio. One of the officers, who reportedly accepted diamonds as payment, allegedly cried "I can't go to jail."
According to a New York Post investigation, NYPD Deputy Inspector James Grant received gems and cash in return for occasional favors, such as providing police escorts from airports.
An unknown source told the Post that over Christmas Grant accepted hundreds of dollars from Jeremy Reichberg, who was on the mayor's "inauguration team" and is well known around the police department. The two have reportedly known each other for about eight years.
The source also confirmed that the NYPD officer accompanied Reichberg after the businessman returned from an overseas trip to pick up jewels.
"[Grant] said he would meet him at the airport and get him back to where he had to go," the source said. "And as a form of payment, he'd give him one or two really nice cut diamonds to give to his wife."
When Grant learned about the federal investigation, he reportedly told his friends, "I'm f–ked. I can't go to jail."
Grant's lawyer, John Meringolo, has spoken on behalf of his client, who "denies any wrongdoing," according to the Post.
"He's been an exceptional police officer for his entire career," Meringolo said.
Relations like the one between Grant and Reichberg are currently part of a broader FBI probe launched earlier this month. Federal investigators are looking into at least 20 police officers, three deputy chiefs, and a precinct head, all of whom allegedly accepted gifts, cash, and foreign trips in return for minor favors for the businessmen.
When one of these cash- and gift-for-favor deals already under FBI scrutiny fell through, it prompted the feds to launch the probe, the Post reported.
In addition to Reichberg, real estate CEO Jona Rechnitz is also involved in the scandal. Just like Reichberg, he was on the New York mayor's "inauguration team." He also helped plan Blasio's party after he took office in 2014.

Wiretaps of the two businessmen's phones allegedly uncovered dealings with several NYPD cops, which soon led the feds to then-NYPD Chief of Department Philip Banks, and corrections union president Norman Seabrook.
As "multiple sources" told the newspaper, the businessmen became close friends with both Banks and Seabrook and even travelled with them to the Caribbean and Israel in 2014. Both trips were reportedly on Rechnitz, who treated them to a Caribbean voyage and then picked up Seabrook's airfare and hotel bills in Israel.
Even though the trip to Israel was "personal," Banks wore his NYPD uniform during a visit to the Wailing Wall in Jerusalem, the Post wrote.
In return for Rechnitz's generosity, Banks and Seabrook bought him a backgammon set made of ancient wood that was worth a few thousand dollars.
"[We] spent $5,000 on the backgammon set — custom-made from Israel — so that nobody could say they bought me the [plane] ticket,'' Seabrook told The Post on Monday. "There is no quid pro quo. There's nothing [the FBI] could say Norman did wrong,'' he added, referring to himself.
It is alleged that Rechnitz also paid for at least part of other cops' trips to places such as London, Rome, and Las Vegas. Other NYPD officers also allegedly received presents like Super Bowl tickets and vacations to China and Brazil.
"I have done nothing wrong and have not engaged in any inappropriate behavior with anyone connected to the NYPD,'' Rechnitz told The Post. "Beyond that, I don't have any comment.''