Pro-Palestinian protesters interrupt Jerusalem mayor's lecture at San Francisco State University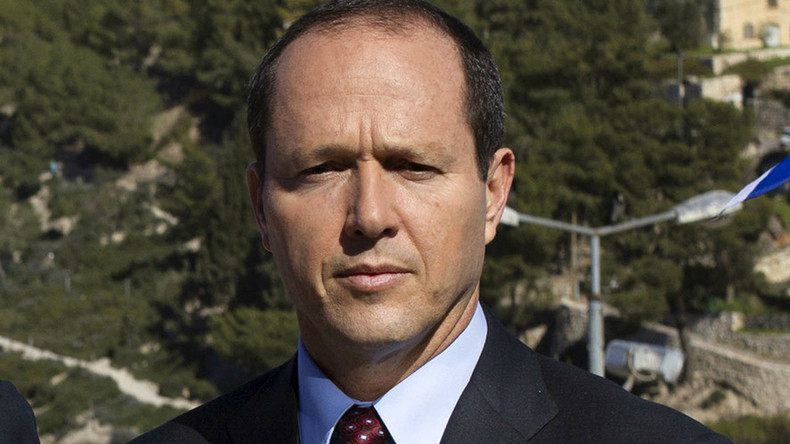 Pro-Palestinian demonstrators disrupted a speech being given by the controversial Mayor of Jerusalem Nir Barkat at San Francisco State University on Wednesday. The protesters called for an end to the "Israeli occupation" of Palestine.
Protesters carrying Palestinian flags and keffiyeh scarves made their way into the lecture hall where Barkat was speaking. They tried to eject the mayor, while also calling for an end to what they perceived was the "Israeli occupation" of Palestine, as well as calling Israel a terrorist and apartheid state.
Around two dozen anti-Israeli protesters were present in all. They could also be heard chanting: "From the river to the sea, Palestine will be free," as well as calling for resumption of the intifada.
Security personnel were called to the scene, though Barkat decided to continue speaking to the students who had gathered.
"Anyone who thinks that calls for violence and incitement will be able to silence us or divert us from our position is mistaken," Barkat said in response to the incident, as cited by the Jerusalem Post. "We will continue to build, develop and strengthen the State of Israel and within it a united Jerusalem and we will continue to voice our opinions and our legitimacy when we are invited to do so, even in places where they try to stop us."
The San Francisco Hillel, which organized the event at the Seven Hills Conference Center, also released a statement condemning the protesters.
"A small group of hecklers came today solely to prevent the campus community from hearing a viewpoint they did not like. Unfortunately they succeeded," the organization said.
Barkat, who is taking part in a tour of US universities, has proved to be a polarizing figure in Israel for his policies as mayor of Jerusalem.
In October, with tensions between Palestinians and Israelis at boiling point, he told city residents it's their "duty" to carry licensed weapons to stave off a spate of stabbings by Palestinians.
"Given the current escalation of violence in the security situation, those with a licensed firearm who know what to do with it must go out with their weapon. In a way, it's like military reserve duty," the millionaire and former entrepreneur, who has been in charge of Jerusalem since 2007, said.
Just days before, Barkat was seen taking part in a security patrol armed with a Glock 23 handgun.
In November 2014, he called on Israeli authorities to revoke the citizenship of family members of terrorists. "We must be extremely focused [in our efforts] against evil people, to locate them and deal with them firmly," he said at the time.
You can share this story on social media: