'Body slam' cop sparks fury after shocking Texas schoolgirl arrest (VIDEO)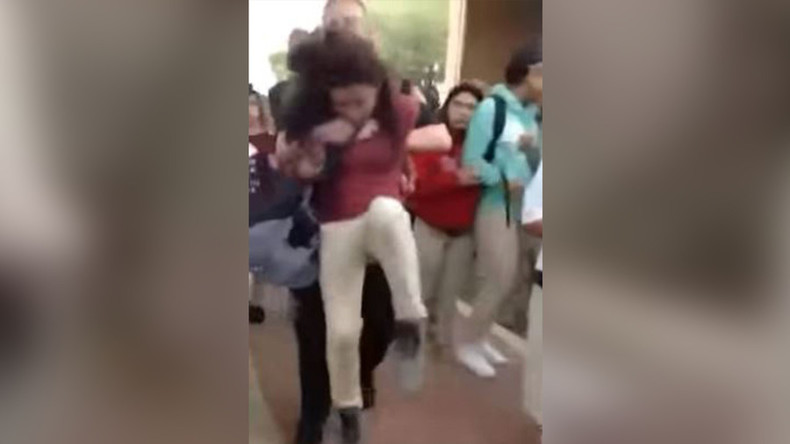 Mobile phone footage of a Texas police officer picking up a 12-year-old girl and slamming her onto a concrete floor has emerged, sparking a probe by San Antonio school authorities.
Identified as officer Joshua Kehm of Rhodes Middle School by the San Antonio Express, the cop has been placed on paid leave after appearing to violently intervene in a schoolyard dispute between two children.
Struggling to restrain 6th grader Janissa Valdez, who was reportedly involved in an argument with a peer, Kehm can be seen to slam her to the ground with force.
As the district police officer cuffs the dazed girl, shocked students can be heard asking if she is okay after apparently landing on her face.
"This video is very concerning, and we are working to get all of the details," Leslie Price, San Antonio Independent School District spokesperson, told local media.
"We certainly want to understand what all occurred, and we are not going to tolerate excessive force in our district."
The police smackdown happened on March 29. The girl's mother has said her daughter doesn't remember the arrest as she was knocked out by the alarming incident.
"Supposedly he was threatened by her that she kicked him, but in the video her legs never went up," Gloria Valdez told Kens 5 Eyewitness News.
"She was, I guess, unconscious. She doesn't remember being arrested with handcuffs… [she's] bruised because of how she was hit on the cement."
This isn't the first time a Texan cop has hit the headlines over apparent rough handling of a juvenile.
In June 2015, another officer, Eric Casebolt, resigned after he was filmed pulling his gun on a group of black teenagers in McKinney.
His lawyer said two earlier suicide calls had contributed to his emotional state, which saw him force a 14-year-old girl to the ground and perform a ludicrous barrel roll.