On the road again: Sea lion leaves water to hit the highway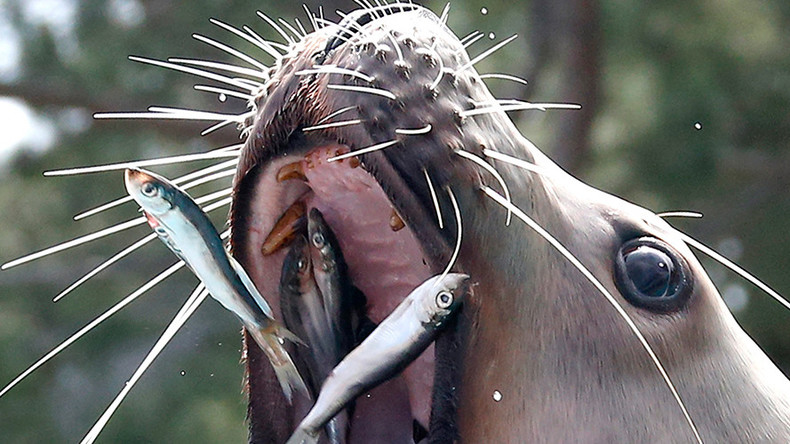 A sea lion learned a thing or two about California traffic when it wandered onto a highway, bringing traffic to a standstill during morning rush hour. While causing quite a commotion, the rescue effort revealed that he could be ill.
School Daze is a juvenile sea lion who can't be tamed, apparently.
Daze started causing trouble just before 10:00 am on April 4, when the Marin County California Highway Patrol received calls about him rudely blocking the eastbound lane of Highway 37, the Press Democrat reported.
Motorists attempted to help the wayward sea lion and corral him back into the water, but School Daze was not having it. KNTV reported that an off-duty police officer had tried to chase down the sea lion before experts from the Marine Mammal Center arrived.
Although officers managed to get School Daze back into the water, he was set in his ways and popped back out and returned to the highway.
"The problem that we've seen is it's very difficult to get that sea lion back into open water," Officer Andrew Barclay told the Press Democrat.
Marine Mammal Center spokesman Giancarlo Rulli confirmed that his agency's rescue crews were already familiar with School Daze, who has been to the facility multiple times to be treated for malnutrition. They believe he could be suffering from domoic acid exposure.
Exposure to domoic acid can lead to neurological damage and cause marine animals to become lethargic, disoriented, and have seizures that can sometimes result in death. Domoic acid is produced by algal blooms, and exposure to it can "have devastating effects on marine mammals and humans that consume toxic prey species," according to the Center.
School Daze last spent time at the Marine Mammal Center in January. He was released after being treated for malnutrition, but, unfortunately, he has once again lost weight – a total of 13 pounds (6 kilograms), according to an email from the Center to the Press Democrat.
Sea lions are currently experiencing a crisis, with reports of widespread malnutrition. The Center is currently caring for 80 seals, more than four times the average for this time of the year, according to KNTV.
Motorists on Highway 37 should be used to marine mischief by now. In December, a 900 pound (410 kilogram) elephant seal blocked traffic on that same stretch of road, when it, too, decided to see what was on the other side.