Crazy high speed 'car v motorbike' dual ignited by Florida road rage (VIDEO)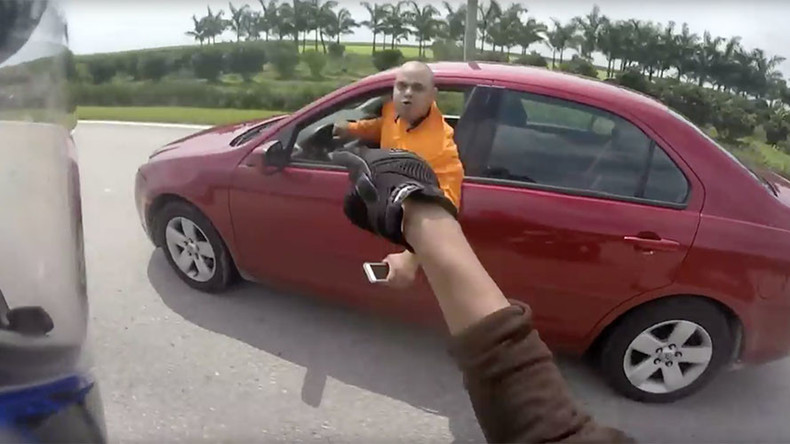 A motorcyclist in Florida has posted video footage of how a spin on the open road led to him apparently being stalked by an angry motorist who tried to ram him off the road multiple times.
The alarming incident shows the owner of a red Ford vehicle and a motorcycle rider driving recklessly in a bizarre highway dual, fueled by an altercation involving a side mirror.
Beginning at a busy Florida intersection, the red mist descends when the driver of the car appears to cut across motorcyclist Rone Gonzalez.
Just seconds earlier a police cruiser can be seen to pass the duo, completely unaware of what is about to unfold.
After a brief verbal exchange with the motorist – identified as Dion Rosa by WSVN News – a bizarre high speed chase ensues. Gonzalez then appears to incense Rosa by striking his side mirror with his fist.
What happens next is a terrifying pursuit across busy roads as the angry driver hunts down Gonzalez, swerving his vehicle dangerously into the middle of the road on at least two occasions.
At one point, the driver tries to film his perceived enemy and appears to aim a punch at him.
Trying to evade his highway stalker, Gonzalez sees fit to drive at speed on the wrong side of the road and – instead of pulling over and seeking assistance – continues to drive at over 90mph (144kph).
The pair have both expressed regret at putting other drivers at risk, with Gonzalez admitting in a Youtube comment his inexperience as a rider.
"All of this stuff wasn't on purpose but an attempt to get away. I didn't chose to get [into] oncoming traffic, he blocked my path on both lanes – I didn't want to harm myself or other people," he said.
"A police report is the most I will do. No one got hurt, everyone goes home. That's the end goal. If I was more experienced then yes it could have been different. But I was in fear of my life and panicking."
Meanwhile, the driver has said he carried out the pursuit because of the damage done to his mirror.
"I am not proud of what I did," Rosa told Local 10 News.
"All I can say is that I learned a big lesson. A lot of things could have happened in that short time. It only takes a second for an accident to happen, yet we both took no consideration over our loved ones or the people around us at the time."
Police are investigating the incident.