Insulin cost tripled over 10-year period in US – study
The cost of insulin, an essential hormone used in the treatment of diabetes, rose from $4.34 to $12.92 per milliliter, increasing almost threefold from 2002 to 2013, a new study says.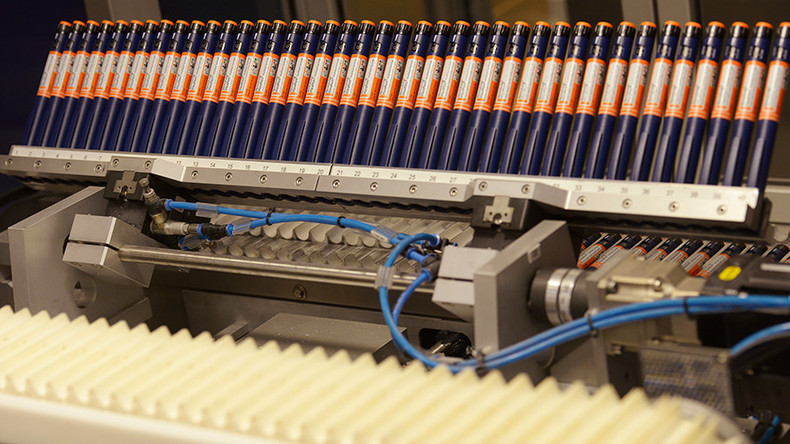 In a study published in the Journal of American Medical Association on Tuesday, researchers from Australia's University of Melbourne and the University of Michigan found that, while the costs of other diabetes drugs have either stabilized or gone down, insulin costs have skyrocketed.
"Insulin is a life-saving medication," said Dr. William Herman, a Michigan coauthor of the study, according to PBS. "There are people with type 1 diabetes who will die without insulin. And while there have been incremental benefits in insulin products, prices have been rising. So there are people who can't afford them. It's a real problem."
Researchers drew data from 27,878 diabetic people whose average age was 60, examining their medical spending from 2002 to 2013.
The average price of insulin almost tripled over this period, jumping from $4.34 to $12.92 per milliliter. At the same time, the average amount used per patient each year increased from 171 milliliters to 206 milliliters.
This means the annual per-patient cost of insulin has increased from $231 to $736 on average in just a decade. Meanwhile, the total cost of all other diabetes drugs fell from an annual per-patient average of $600 to only $502.
"The large increase in costs can largely be explained (by) much greater use of newer types of insulin known as analog insulins," said Dr. Philip Clarke, senior author of the study and a professor at the University of Melbourne in Australia, according to Reuters. "While these drugs can be better for some patients, they are much more costly than the human insulin they replaced."
Insulin is a naturally occurring hormone that the body needs to turn sugars into energy. The bodies of people who have type 1 diabetes don't produce enough insulin to function, meaning they require insulin injections to survive.
Type 2 diabetes is the more common version of the disease, which is often associated with obesity, lack of physical activity, and poor diet. It occurs when the body's cells become resistant to insulin
Nearly 10 percent of Americans, amounting to more than 29 million people, have some form of diabetes, according to the US Centers for Disease Control and Prevention.
You can share this story on social media: