'Grossly negligent': Judge approves historic $20 billion settlement for BP oil spill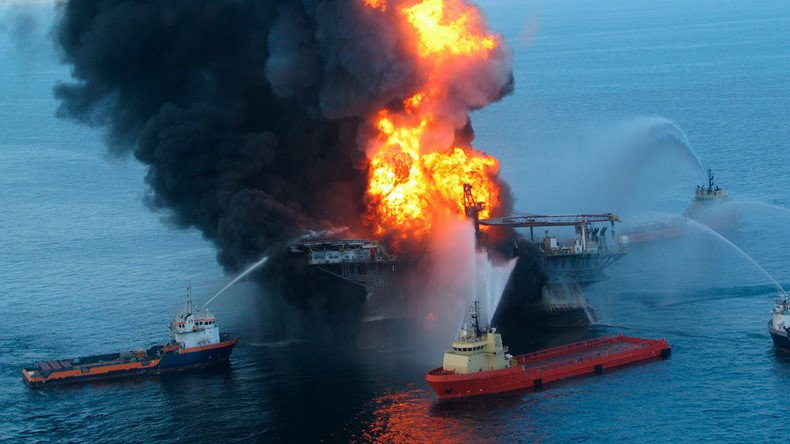 A federal judge gave final approval to a $20.8 billion settlement to be paid by BP for what US Attorney General Loretta Lynch has called "the worst environmental disaster in American history" – the 2010 Deepwater Horizon oil spill in the Gulf of Mexico.
Monday's settlement, approved by US District Judge Carl Barbier, finalizes an agreement reached in July. In the earlier ruling, Barbier found that BP petroleum company had been "grossly negligent" with respect to the oil rig, whose explosion resulted in the death of 11 workers and caused 3 million barrels of oil to leak into the Gulf of Mexico.
BP only managed to stop the flow of oil 87 days after disaster struck. The spill ultimately spread across 43,000 square miles, wreaking havoc on coastal communities and ecosystems from Florida to Texas.
The Department of Justice estimates that the settlement will cost BP $20.8 billion, $5.5 billion of which will be paid to the DOJ itself for cleanup costs – $1,720 for every barrel of oil spilled. The money will be paid out over a 16-year period, $379.3 million each year from 2017 to 2031.
In a statement released on Monday, Attorney General Loretta Lynch called the 2010 oil spill "the worst environmental disaster in American history."
"BP is receiving the punishment it deserves, while also providing critical compensation for the injuries it caused to the environment and the economy of the Gulf region," Lynch wrote.
Texas and four other Gulf states will be awarded a total of $4.9 billion in damages from the settlement. The company will pay an additional $7.1 billion to the five states to restore the natural resources devastated by the spill.
"We are pleased that the Court has entered the Consent Decree, finalizing the historic settlement announced last July," BP spokesman Geoff Morrell said in a statement.
BP has reached similar agreements with private businesses and individuals who claim to have suffered monetary losses because of the spill, such as fisherman whose fisheries were shut down. The company claims that its total expenses related to the spill will end up costing in excess of $53 billion.
You can share this story on social media: