Minnesota Gov bans 'non essential state travel' to NC over 'anti-LGBT' laws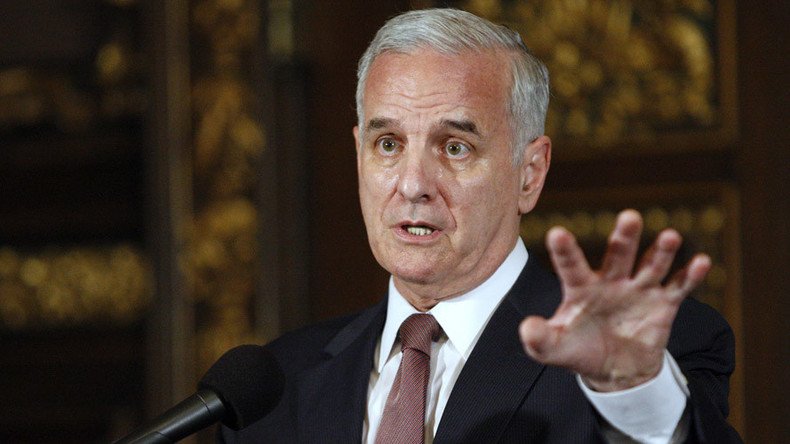 Minnesota Governor Mark Dayton has introduced a ban on "all nonessential state business travel" to North Carolina after the state introduced anti-LGBT laws.
In a letter distributed to all Minnesota state employees on Saturday, Dayton took aim at North Carolina's introduction of laws in March whereby local governments were blocked from making their own rules against gender and sexual discrimination, as well as dictating that if using a public bathroom, transgender people would have to use the one according to their gender at birth.
READ MORE: North Carolina blocks local transgender anti-discrimination laws
The Democratic governor said such legislation was "appalling" and "violates the values and the laws" of Minnesota as well as being "destructive to the progress we have made to provide equal rights and protections to our LGBT community."
"I direct that all state employees cease all nonessential state business travel to North Carolina until further notice," wrote Dayton.
The ban does, however, permit state-funded travel to North Carolina "if it is necessary to protect the safety or other essential interests" of Minnesotans.
Dayton is not the first governor to introduce such a ban following the introduction of the legislation with a number of cities and and states, including Vermont, New York State and City, San Francisco, Seattle, Washington D.C and Washington also implementing similar bans.
Ordinance defied common sense, allowing men to use women's bathroom/locker room for instance. That's why I signed bipartisan bill to stop it

— Pat McCrory (@PatMcCroryNC) March 24, 2016
On March 24, the day after the laws were signed in by Governor Pat McCrory, LGBT and human rights activists rallied outside the Governor's home denouncing the legislation.
You can share this story on social media: