New Black Panthers in armed showdown with anti-Muslim militia in Texas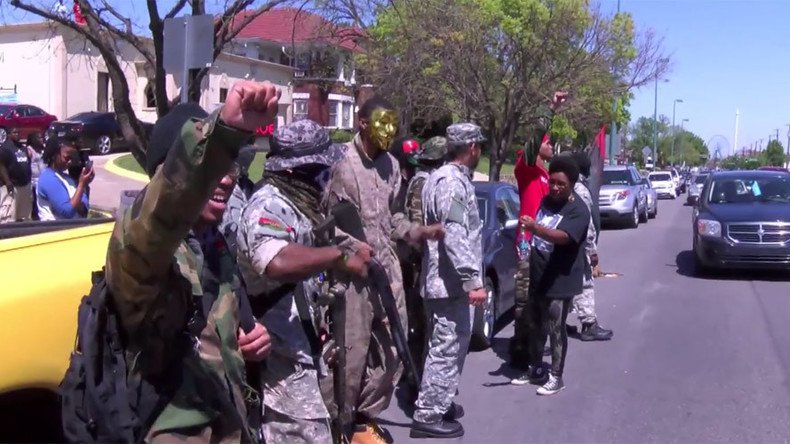 A gun-toting anti-Muslim hate group protesting at a mosque in Texas weren't expecting to be confronted by armed members of the New Black Panther Party and the Huey P Newton Gun Club.
The Bureau of American Islamic Relations (BAIR) enjoys showing up at Muslim prayer centers armed with firearms in an effort to intimidate people trying to worship.
They also dress in army gear, perhaps inspired by the Bundy Gang.
The hate group expected an average day of bigotry and aggression at the Nation of Islam mosque on Martin Luther King Boulevard in South Dallas, only to find themselves outnumbered by the armed self-defense group waiting for them.
Members of the community, along with the New Black Panther Party for Self-Defense and the Huey P Newton Gun Club, were there to protect the Muslims from the BAIR demonstrators.
Both groups made the most of open carry laws in Texas that allow residents to carry AK-47s and rifles on the streets.
There was a heavy police presence at the scene.
"They have no reason to bring themselves here to South Dallas. David Wright and his band of idiots, they're out of their minds thinking they can bring their right-wing ideology into South Dallas," Yafeuh Balogun, a member of the gun club named after the original Black Panther Party leader, explained, while dressed in his military fatigues.
"We cannot stand by while all these different anti-American, Arab radical Islamists team up with Nation of Islam/Black Panthers and White anti-American anarchist groups, joining together in the goal of destroying our country and killing innocent people to gain dominance through fear! We will be going in full gear for self defense only. This is a full gear situation," BAIR said on its Facebook page.
The group previously protested at an event to welcome refugees in Irving in February, with leader David Wright explaining, "We want to see how many are actually women and children."
BAIR didn't stay long, after being encouraged to leave by the police, Fox 4 reports.
"The community here in South Dallas, on Martin Luther King and Malcolm X spoke out, and you should see today, it wasn't the Huey P Newton Gun Club that ran BAIR out of the community, it was the residents, and the people who live here who got BAIR out of here," Balogun said.
Huey P Newton Gun Club has organized a number displays against police violence, marching for justice for Michael Brown, Eric Garner, James Harper and others.
The New Black Panther for Self Defense was established in Dallas in 1989.
The original Black Panthers say the new group is not affiliated with them - and both new BPP and BAIR are considered hate groups by the Southern Poverty Law Center.
Nearly 50 years ago, armed members of the original BPP marched into California's state Capitol building, shocking the world.
Behind the guns, their 10-point platform pushed for "radical" ideas such as "decent housing", an immediate end to police brutality, and "an end to the robbery by the capitalists of our black and oppressed communities."
You can share this story on social media: