Muslim family claims racial profiling after being kicked off United flight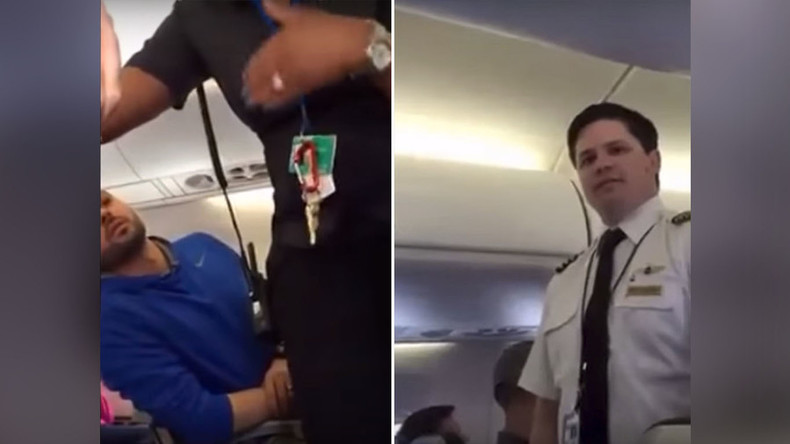 A Muslim family say they were left humiliated after being kicked off a flight operated by United Airlines.
Eaman-Amy Shebley posted on Facebook this week that she and her husband Saad had filed a complaint with the Council on American–Islamic Relations (CAIR) about the March 20 incident - and this Friday they held a press conference with the advocacy organization.
Footage of the incident shows a flight attendant asking Saad Shebley, his wife, and three children to "step off… because they are investigating."
The Shebley family are then approached by the captain, who also asks them to leave the plane. When asked by Eaman-Amy Shebley if this is a "discriminatory decision," the pilot tells her it is a "safety of flight issue."
"Shame on you #unitedAirlines for profiling my family and me for no reason other than how we look," wrote Shebley on Facebook. "My three kids are too young to have experienced this."
After getting off the plane, the Shebleys spoke with the airline's customer service, who apologized for the incident and placed them on the next available flight.
After being approached by the Shebleys, CAIR also lodged a complaint with the airline, saying there is a "growing problem on airlines of Muslims being removed from flights when they cause no reasonable security concerns."
CAIR have requested a formal apology from the airline, as well as disciplinary measures to be brought against the airline staff involved, culture sensitivity training for all staff, and "appropriate compensation for the duress experienced by the family."
#UnitedAirlines is a joke, treating Muslim families differently and kicking them off a plane is messed up. I will no longer use your airline

— Ryan Odom (@ItsRyOdom) April 2, 2016
United Airlines have denied the Shebleys were asked to leave the plane on religious grounds, instead stating that there were "concerns about their child's safety seat, which did not comply with federal safety regulations."
"Both United and SkyWest hold our employees to the highest standards of professionalism and have zero tolerance for discrimination," the airline said in a statement.