Pentagon will spend $317mn on hi-tech cloth for US Army
Published time: 2 Apr, 2016 13:13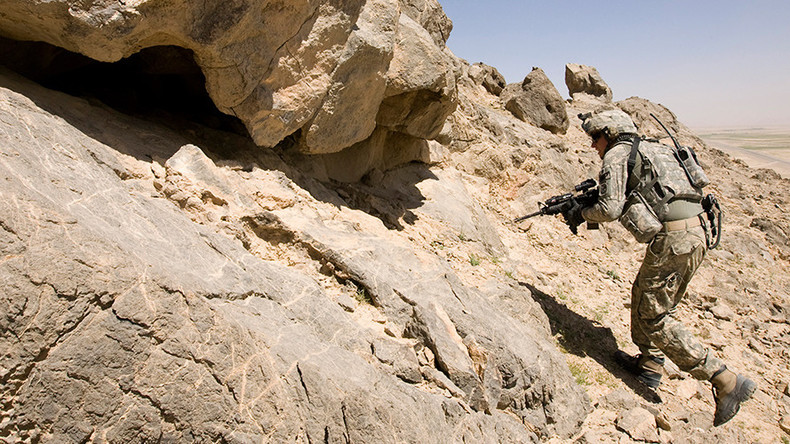 The Pentagon has announced a $317-million initiative to develop high-tech textiles that will revolutionize US Army gear and offer American servicemen James Bond-like capabilities to sense chemical agents, change color and monitor the wearer's health.
The US Defense Department will partially fund a consortium of universities, manufacturers, and other relevant parties by providing $75 million for an advanced textiles institute, known as the Advanced Functional Fabrics of America Alliance. The new institute's headquarters will be based in Cambridge, MA.
The aim is to research materials "that can see, hear, sense, communicate, store energy, regulate temperature, monitor health, change color, and much more," Defense Secretary Ash Carter announced according to a copy of his prepared remarks provided by defense officials ahead of his speech at Massachusetts Institute of Technology on Friday.
"Revolutionary fibers and textiles have enormous potential for our defense mission," Carter said. "For example, lightweight sensors woven into the nylon of parachutes will be able to catch small tears that otherwise would expand in midair, risking paratroopers lives."
The research will be supervised by the US Army Contracting Command – New Jersey Emerging Technologies Contracting Center. In addition to DoD funding, the government is seeking an additional $250 million from the private sector and local governments. The initial funding will cover a five-year period.
Besides universities, world fashion and consumer electronics brands will lead the research. The companies involved in the project will include Nike, New Balance, Bose, Intel, DuPont, Buhler Quality Yarns, in addition to energy and material technology firms.
"For example, the institute will pair the likes of audio equipment maker Bose, computer chip maker Intel, and nanofiber manufacturer FibeRio with more customary textile manufacturers and textile users like Warwick Mills, Buhler Yarns, and New Balance," the White House said in a statement.
The partnership includes 52 industry members and non-profit organizations, in addition to 37 additional partners across 28 states.
The initiative announced on Friday is one of a series of National Network for Manufacturing Innovation (NNMI) centers established by the latest US Administration. The new institute is the eighth out of at least 15 hubs to be created by Barack Obama. The others have focused on 3D printing, lightweight metals, integrated photonics, and other areas of technology.
READ MORE: Breakthrough in 3D-printing? MIT unveils device molding 10 materials at once

The US government has so far spent nearly $600 million on NNMI, which was launched in 2012, matched by over $1.2 billion in non-federal investment.
With Ojinnaka's Ring of Honor contract expiring in June, he could be set to join some stellar names by moving to the WWE, although he says he's not concerned with what the future holds.
"I haven't thought about what's next yet - I love Ring of Honor and I'm the happiest that I've ever been in my life, hands down," he said.
"Money doesn't make you happy. I'm way happier doing this than playing football. Football wasn't happiness to me. That was a job. This isn't a job. This is me doing something I love."