Third time's the charm: Tesla to unveil Model 3
Published time: 1 Apr, 2016 00:46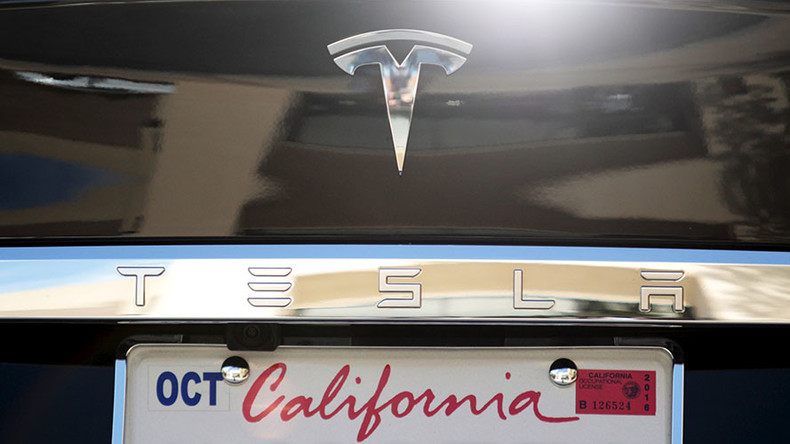 The moment is here: The Tesla Model 3 will be unveiled on Thursday at the company's facility in Hawthorne, California at 9:30pm. Unlike many of Tesla's other models, the Model 3 will have mass-market pricing that could bring electric cars to the public.
Tesla may be known as a luxury brand for cars, but the Model 3 may bring the technology which some have paid over $133,000 for to the masses. With a $35,000 price tag, the Model 3 is designed to be sold in high volumes. The Verge reported that Tesla has built a little over 100,000 cars in total but plans to expand that number to half a million per year by 2020.
With some waiting as many as three days to put down a $1,000 reservation on the Model 3, some may wonder what's so special about this electric car. Stanton Cruse, a self-proclaimed "Elon Musk fanboy," waited in line for two hours to put his deposit down on a Model 3.
Cruse estimated that there were maybe 500 people waiting to hand over their money for an unseen car. He explained his decision to spend a sunny California day in line.
Recalling the fuel shortages of the 1970s, Cruse told RT, "today in an era of cheap oil, I waited in line for over two hours to reserve my Tesla Model 3 so that I never have to worry about petrol ever again... and because I know it will be awesome!"
The EV battery in the Model 3 could offer (currently) unparalleled range – the measurement of how far a charged battery can go before the engine has to kick in. An unconfirmed report from Electrek claims that the Model 3 could have a range of over 300 miles on a single battery charge. Jalopnik puts that number between 220 and 300 miles.
Cars in the same price bracket – such as the Kia Soul EV, Fiat 500e or the Nissan Leaf – can only offer a fraction of that range. The Kia Soul has the highest out of all of the aforementioned vehicles with a range of 93 miles.
As impressive as that is, it could be some time before anyone who put their deposit down will get to test drive a Model 3.
"Deliveries begin late 2017," Cruse explained, "but the production ramp will be in 2018. Don't expect to get a model 3 in 2017 unless you were in line today, and probably camping out last night, depending on how the production ramp goes."
The March 31 unveiling is a bold move on Tesla's part, with less than $1 billion in their cash reserves. The Verge reported that it is highly unusual for an automaker to give a sneak peek two years before the car will hit the market. It is expected that over the course of 2016 and (likely) 2017, the car will probably see a few changes. In addition, The Verge noted that buyers putting down money for a currently unavailable car could cut into the demand for their other, significantly more expensive models.
Perhaps it is because Tesla needs the money from deposits to complete the Model 3 and introduce it to the market. Despite the number of people excited about a Tesla within their price bracket, the price could increase before they can purchase it.
The official base price of the Tesla Model 3 is $35,000 – although there is still no word on how bare bones the cheapest version of the car will be. The price is lowered with $7,500 in tax credits available to those who purchase one of the first 200,000 cars built. However, a press release from Tesla confirms that current Tesla owners will have priority in each region – meaning that the tax credits will likely go to people who could afford the $75,000 to $100,000 models.
Despite this, Cruse remains optimistic about the Model 3. Of the unveiling of the Model 3, he said, "no one knows what we will see tonight. Yet thousands have already put $1,000 down completely sight unseen! It's a testament to Tesla's track record. People are confident it will exceed their expectations!"