Pentagon plans another round of Guantanamo prisoner transfers
Published time: 31 Mar, 2016 20:43
Edited time: 31 Mar, 2016 21:36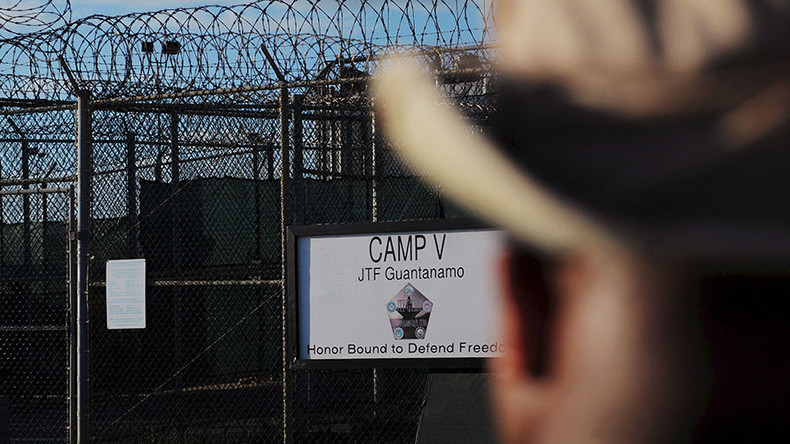 The Department of Defense plans to transfer about a dozen inmates from the notorious Guantanamo Bay detention facility in Cuba, officials said. Their destination has not been disclosed.
Some of the transfers, which were announced late on Wednesday, are expected to occur this weekend, and others are set for the coming weeks, an anonymous official told Reuters.
"The Administration is committed to reducing the detainee population and to closing the detention facility responsibly," Pentagon spokesman Commander Gary Ross said in a statement.
Among those being transferred is Tariq Ba Odah, a 37-year-old Yemeni who has been on a hunger strike since 2007, the Washington Post reported. He has been force-fed by nasal tube since his protest began.
He cannot be sent to his home country because of a congressional ban on repatriation of prisoners to Yemen, so the military will have to choose another destination.
Human rights advocates complain that Guantanamo detainees such as Ba Odah are being held without charge or trial.
There are currently 91 prisoners being held at Guantanamo Bay, and 37 of those have been approved to be transferred to another country without necessarily being scheduled for resettlement. The number of detainees has dropped from about 250 since President Barack Obama took office.
Obama has sought to close the facility since he first campaigned for the presidency in 2008, but has been met with stiff opposition from Congress. He is nonetheless hoping to have the 37 approved transfers completed by this summer.
Complicating the plan to shut down Guantanamo is the fact that there is a statute preventing the military from putting detainees on United States soil. This is the reason the prison camp was located on territory the US considers being leased from Cuba.
The Cuban government has deemed the US possession of Guantanamo Bay "illegal occupation" and demands its return as one of the conditions of normalizing relations between Havana and Washington.