Arizona cop faces murder charges after shooting man who begged for his life
Published time: 31 Mar, 2016 04:25
Edited time: 19 Dec, 2016 23:44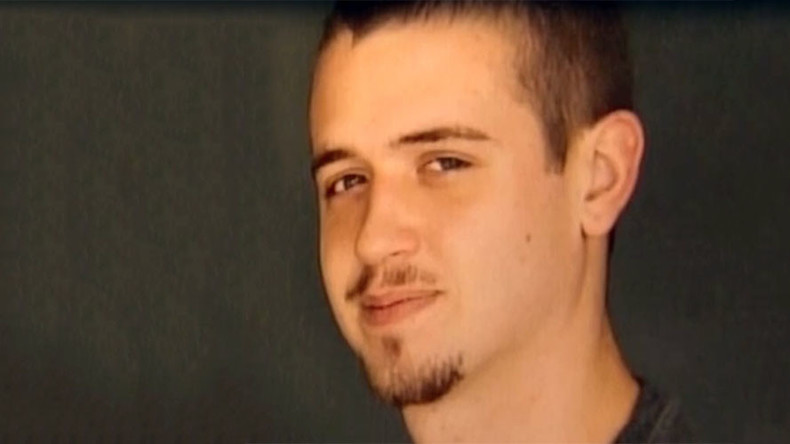 Police in Mesa, Arizona have published a report about a January shooting in which one of their own shot and killed an unarmed Texas man who begged to be spared. The officer involved has been fired and charged with second-degree murder.
Daniel Shaver, 26, was killed outside of his room at the La Quinta Inn on January 18. Officer Philip "Mitch" Brailsford opened fire on Shaver as he crawled along the hallway. A transcript of the body camera footage confirmed the statement of a witness that Shaver was saying, "please don't shoot me," and "please don't shoot," moments before Brailsford opened fire.
The Mesa Police Department released the police report, 911 calls and other materials from the investigation into the shooting, but not the body camera video from the scene.
Maricopa County Attorney Bill Montgomery, who charged Brailsford with one count of second-degree murder on March 4, said the shooting was unjustified use of deadly force and that the officer was "manifesting an extreme indifference to human life recklessly causing the death of another."
According to two witnesses, a man and a woman who were staying at the La Quinta Inn, they met Shaver on the evening of January 18 and went to his room to drink shots. The woman saw a case inside the room and asked about its contents. Shaver opened it up, revealing a pellet gun. When he and the other man pointed it out the window, hotel guests called the police, according to the Arizona Republic.
The responding officers had had Shaver and the unidentified woman exit the room, and ordered them to get on the floor and crawl towards them. While Shaver was crawling, he motioned to his waistline. Brailsford responded to by shooting him five times, KPNX reported.
"As the male came close to us I saw him abruptly drop his right hand from above his head and reach back to the small of his back. I immediately perceived this as a threat and a movement to reach a handgun," an officer who was also on the scene said in a supplemental report.
Reports cited by the Arizona Republic indicate that the Texas man lowered his right hand towards his waistline, possibly attempting to pull up his sagging shorts as he crawled.
Court records showed that Shaver may have not understood directions from the police due to intoxication at the time of his death. Several witnesses described him as being extremely intoxicated before the shooting.
A court document released earlier this month corroborates this story, saying, "Shaver was cooperative, but sometimes confused by the commands and because of his possible intoxication," and that "the sergeant told Shaver that if he put his hands behind his back then he would be shot."
Brailsford was fired from the Mesa PD on March 14. In addition to the murder charge, he was found to have defaced his AR-15 rifle, by carving in the phrase "You're F***ed."